Nola: Cupcakes Slowly Taking Over Maadi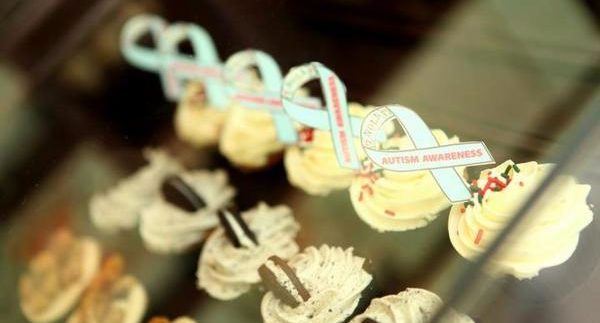 What is the hype about Cairo and cupcakes? Are post-revolution Cairenes comforting themselves in times of uncertainty by indulging in sugary bundles of joy? Or maybe it's a lifestyle thing, like going out to the shops to find a pretty accessory in the right colour and right shape, only to guzzle it down after exclaiming how beautiful it is.
One thing is for sure, Nola Cupcakes are more than just graceful works of art. A family business run by Laila and Adel Sedky, they are definitely about great taste too. Recently opening their second branch in the leafy suburb of Maadi, they make a dainty addition to all the new dessert and bakeries popping up on Road 9.
The branding of the store is retro and sleek with a ubiquitous vivid turquoise appearing in the shop, packaging and bags. A decorative display of teacups and a large cake stand in the window entice you inside.
Entering Nola is like transforming into a child again. The fresh baked smells and colourful display arouse all your senses, and it's not humanly possible to contain your excitement. Ornate china plates adorn the wall and a dark wooden glass counter top extends the length of the shop, maybe inspired by the historic department store Fortnum and Mason in London.
The staff are smartly dressed in black uniforms complete with a trendy Nola hat. They are helpful and patient enough to point out all names and flavours and, if you're lucky, offer you a free sample of their latest creation.
Lavishly iced cakes vary from the popular red velvet, cream cheese on a moist base, to cookie dough, which actually incorporates a whole cookie broken on top. Also, inventions like Nutella Twix, tiramisu and other cupcakes will keep you gawping. Prices range from 8.50LE to 13LE per cake and will come in stylishly ornate boxes, great for a gift.
Each cake is fluffy and light and has just the right amount of creamy topping or buttery icing. But we did find the icing on the cookie dough to be too sweet, instead preferring the creamy texture on the red velvet and the gooey fruity topping of the blueberry. For a treat, try the chocolate peanut butter flavour; a light sponge with a concoction of flavours guaranteed to tantalise your taste buds.
If you suffer from any allergies then try the allergen free selection. Nola also helps support the local causes by offering a line of cupcakes where 100% of the proceeds go directly to a chosen charity or project.
Nola is a boutique for cupcakes with the choice of free delivery if you're feeling like a lazy Marie Antoinette. They are great to give as gifts and small enough to polish off yourself without over-indulging. But at the time of writing, the only thing lacking in the Maadi branch was seating; a must if you are to enjoy your dessert with a cup of tea.