Nola: More Cupcakes in Cairo, Hurrah!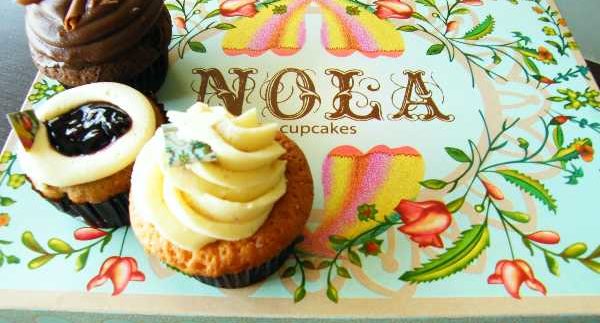 Here's yet another reason why living in
Zamalek is awesome if you have a sweet tooth! Located on the always busy Brazil Street just
off of 26th of July Street is Nola, a
quaint and elegant little cupcake shop with charming decor and sweet desserts.
Though it's definitely not the first pastry shop in Zamalek to sell cupcakes (you've
got Loolie's and Sugar
N Spice in walking distance), it is the first to devote itself entirely and
completely to cupcakes.
At the time of this reviewer's visit, the
cupcakes are sold in two sizes, a tiny bite-size and a large size, which– quite honestly– is not as large as we had hoped it would be. The cupcakes are arranged in a glass display
shelf on one side of the shop, while the other side holds a chalkboard with the
menu list written out in coloured chalk. Nola's interior is painted in Robin's Egg
blue with elegant floor tiles, white chandeliers and two white high-top tables
in the centre for you to wait at while your order is being prepared.
The upper level is completely devoted to
the in-house oven and baking section, where a new batch of cupcakes is
consistently being baked. So, if they've run out of your favourite flavour; be
sure to ask when their next batch will be ready: it could be a matter of
minutes.
At the time of this reviewer's visit; the
following cupcake flavours were available: chocolate, peanut butter,
blueberry, apple, vanilla, carrot, coconut, red velvet and lemon meringue.
Prices range from 8.50LE for the vanilla cupcake all the way up to 12LE for
the quite extravagant chocolate cupcake.
The cupcakes are all so prettily arranged
and decorated; you almost feel bad taking your first bite. Biting into the little treat, you'll find
that the cake's texture is lovely and chewy with just the right consistency of
fluffiness. In some cases such as the vanilla (8.50LE) and carrot cupcakes
(11LE), the icing is just a little too creamy; as we prefer ours to be thick
and heavy.
Some flavours are also a little too vague;
it was difficult to figure out if our cupcake sample was carrot or banana,
especially since the cake itself tasted more like banana cake and the icing had
too much butter. The lemon meringue (11LE) and coconut cupcakes (9LE) brought interesting
twists to the traditional flavours, but while they were sweet and pretty; they
were nothing special to write home about.
The red velvet (10.50LE) is decorated
with a picturesque, fluffy cake texture, though its cream cheese icing overpowers the cake's
flavour. The chocolate cupcake (12LE)
has a rich, creamy chocolate icing that complements the rich chocolate cake.
All in all, the cupcakes at Nola are sweet,
pretty and daintily decorated: they're the perfect gift to bring to a ladies'
afternoon tea or an elegant birthday party. Their moderate sizes and so-so flavours stop
them from becoming our all-time favourite desserts in Cairo; but since this is only the shop's
opening week, we see great potential in Nola's future.