On the Bake: Welcoming Café in Heliopolis
79 Abd El Hamed Badawe Street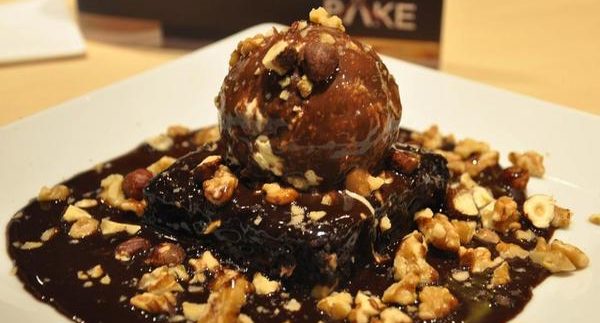 Surrounded by an array of eateries on Abdel Hamid Badawi Street in Heliopolis, On the Bake is a shiny new café which prides itself on a menu that's influenced from all over the world.
We wandered up the charming front garden path, drawn in by the novelty windmill over the 'A' in Bake and the bright lights behind the spotless glass façade. The outside seating is limited to just one tiny table, so we headed inside.
We were greeted by a friendly, casually dressed waiter and chose a table complete with a suede sofa on one side and comfortable chairs on the other. The décor is contemporary with neutral colours, trendy wall art and a relaxed, comfortable atmosphere.
The large, glass counter boastfully displays some delicious looking pastries and pretty tarts which would be a perfect accompaniment to a frothy cappuccino (17.90LE-19.90LE) or a chocolatey Oreo shake (23.90LE). Feeling fruity, we couldn't resist the sound of a mixed berry smoothie (20.90LE) and a fresh strawberry lemon juice (13.90LE).
The mixed berry smoothie was thick, sweet and scrumptious, served with an extra wide straw which was fun but probably slightly unnecessary – felt a bit like drinking out of a hose pipe. The strawberry lemon juice arrived unblended but was equally as fresh and delectable; it came with a normal sized straw.
The food menu is truly diverse, offering a range of different items including breakfast croissants and unusual breads (1.25LE-29.50LE), burgers, pastas, fajita wraps and salads. We dove straight into a chicken sandwich with Swiss cheese (34.90LE) and a chicken power salad with the recommended ranch dressing (39.90LE).
The big portions of food arrived very quickly with the colourful salad almost overflowing on its sizable plate. The chicken sandwich looked more like a giant burger, served in a cold bun rather than the warm bread we were expecting. It was filled with crispy greens, tomatoes, honey mustard dressing and peppery chips. Although the sandwich was tasty and satisfied our hunger, it was nothing out of the ordinary and may have been better if we'd contemplated the other dressing options on offer.
As previously mentioned, the chicken power salad was huge and certainly worth the money. The lettuce was chilled and crispy and the black beans and sweetcorn added diversity to the flavour. The country fried chicken was zesty and cut into bite-sized pieces with the cold and creamy ranch sauce on the side. However, like the sandwich, it didn't wow us into submission.
Next, we were spoilt for choice with desserts. Initially, we ordered a Malteser tart (18.90LE) but due to unavailability, we went for chocolate brownies with nuts and vanilla ice cream (21.90LE).
The dish arrived, the jumbo-sized brownie steaming and covered in rich chocolate sauce and a big dollop of melting ice cream on top. The pieces of nuts sprinkled on top made the texture more interesting and added a little extra flavour. Just as it was advertised, the dish was 'extremely delicious' and big enough for sharing – although you may not want to.
On the Bake is a pleasant and casual café that serves fast, convenient food and delicious desserts. The prices are good and the portions are large so you're guaranteed to leave satisfied if you're looking for a quick meal or drink.