Pinkberry: Fresh Frozen Yoghurt Treats in Citystars
City Stars, Phase 2 - Floor 2, Omar Ibn El Khattab Street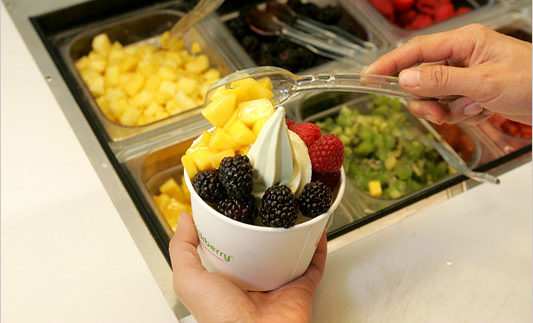 Though it's not the first frozen yoghurt shop to open up in Cairo, Pinkberry
is actually considered by many to be the original frozen yoghurt chain. It took
Pinkberry only seven years to take over the world with their yoghurt-infused
swirls. Now open in Egypt, you can find its first branch in Phase 2 of Citystars
across from Segue. You can spot the shop from afar because of its bright
colours, and the endless line in front of the door. We feel for the staff
members who work as hard as they can to clear up the lines.
The interior of Pinkberry is bright yellow and pink, and you can take a seat
inside or on the little terrace. You can also just opt for take away.
You had better not be an indecisive person by nature when you go to Pinkberry
because there are a lot of decisions to be made. First you choose a flavour: you can pick from the original yoghurt flavour or pomegranate, mango,
chocolate, coconut and passion fruit. You then choose a small, medium or large
portion. Then you can pick from several toppings for your frozen
yoghurt. A small original flavour portion (28LE) comes with four toppings; a
medium portion comes with six toppings and so on. There are a zillion toppings
to choose from. There are lots of fruits like raspberry, blueberry, blackberry,
pineapple, kiwi and banana for instance. For toppings, you can also get waffle
crumbs, gummy bears and various chocolate toppings.
We opted for the original flavour with raspberry, blackberry, kiwi and
blueberry pieces. The original flavour is delicious and the fruit portions were generous. The fruit tasted fresh although we suspect it
was imported.
The good news is that Pinkberry is very diet-friendly: a small portion
of original flavour yoghurt with fruit contains around 140 calories and zero
fat; making it the perfect healthy snack.

We also tried the small chocolate-flavoured
yoghurt (32LE) and topped that with pistachio, pineapple, white chocolate
shavings and raspberries. The yoghurt had a strong chocolate flavour but was nonetheless
very light; in contrast to the typical chocolate desserts that will leave you
feeling stuffed. Once again the toppings were served in very generous portions,
especially the pistachios that made a nice combination with the chocolate.
The frozen yoghurt is absolutely delicious at Pinkberry. We do advise you
to have your Pinkberry order as a takeaway as the venue itself lacks any
ambiance and tries a little too hard to look trendy. If you've been to other
Pinkberry branches, you'd know that they can do better.