Postres Flamenco Bakery: Bread, Pretzels, and Cookies Oh My!
Golden Tulip Hotel Flamenco Cairo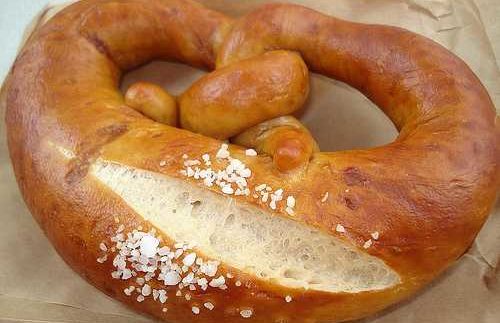 Who doesn't love the smell of
freshly baked bread? It really is one of the most delightful ways to add some
comfort into your day. If you're anything like us, that alarm clock often goes
off a bit too early, and we need a little
pick-me-up to get the day going, whether that means swinging by the bakery to grab a
bite or surprising your co-workers
with a m orning treat. Hidden under a bright orange
and red striped awning on the Zamalek Corniche, the infamous, true-to-style German bakery Postres is better known as Flamenco Bakery.
This charming,
authentic establishment is located around the corner from the Golden Tulip
Flamenco Hotel. While the head baker and hotel manager are both of German
descent, their products leave little to no room to question their genuinely
baked goodness.
As soon as you open
the front door, you're hit with all five senses. The utter deliciousness emitting
from the pastry case and bread baskets will be enough to wake you up with a
watering mouth in no time. If it wasn't for the glass separating customer from
pastry, we might have just had to attack.
The staff greets
you with warm morning smiles and are patient with capriciousness. Not only
that, but they know their details and let you test-taste! The rumours
fluttering around Cairo
about their hand-rolled soft and perfectly chewy pretzels are absolutely true. The Laugen bretzels are delicious and will cost you all of 2.27LE.
Adding a little
French flair to the assortment was the brioche (2LE). Topped with raisins,
tender and crumbling just right; the brioche's tinge of sweetness made it ideal
to be eaten single-handedly. A Danish will run you 4LE and the flaky texture
and powdered sugar topping were scrumptious. If cherry filling isn't your
thing, do not despair; as different flavours are available.
Bread baskets
are filled with freshly baked loaves that start around 20LE and include rye, sourdough
and more. Baguettes are also available and easy to grab when your dinner at
home isn't looking too promising.
If your palate craves
something wholesome, the granola-topped, bite-sized cookie bars are to die for.
With one end dipped in chocolate, the fruit and nutty cookies are not only soft
but the perfect size to be savoured. 7LE is what you'll pay for five or six of
these little monsters.
Four to five tables
grace the waiting area if you have a few minutes to relax and enjoy your treat
on the spot. If not, the service is quick and efficient enough to have you out of
the door in no time.
Postres' location
on the Zamalek Corniche means you may have trouble finding a parking spot, but
saying 'It's worth it' is an understatement. From the very reasonable prices to
the tastiness that abounds, Postres is a must.