Puff Pie: Colourful Snacks in Zamalek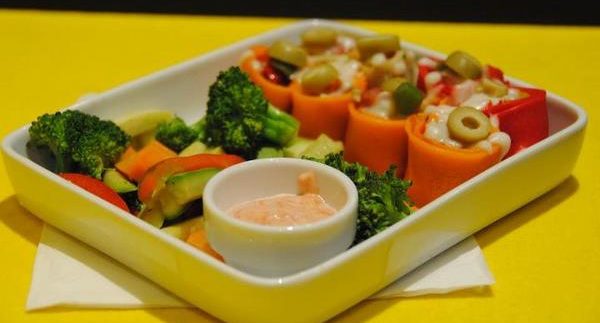 Located just around
the corner from Mobinil in Zamalek, Puff Pie might be a bit difficult to find first
time round. Sitting across from Roma Laundry, the interior of Puff Pie is black
with a lot of bright yellow details. The venue itself is very small and
therefore not really suitable for having an elaborate lunch or dinner. Upon
requesting the menu we were presented with an iPad. Whether this is the usual
system or the real menu's are still in print remained was unclear. We opted for
the Spinach Cheese puff pie (20LE), the Chicken Mushroom puff pie (22LE), the
spud with fresh fruit (20LE) and took a vanilla milkshake while we were waiting
(15LE). The milkshake was prepared on the spot and was full of vanilla flavour.
It was definitely refreshing but a bit too sweet for our liking.
After waiting
around for a while we were presented with the food and that's where the
questioning began. We were not quite
sure what we had on our plate. What we saw were yellow, red and dark purple
rolls with filling. We started off with a yellow piece filled with cheese and
spinach. The filling was exceptional and tasted delicious. The yellow roll in
which it was wrapped was fairly tasteless and we couldn't figure out quite what
it was. Perhaps dough or egg as one of our dining partners speculated. The
chicken mushroom wasn't disappointing either. The chicken pieces were tender
and the mushrooms were fresh. They were covered in a white béchamel-type sauce
and also wrapped in the bright red and yellow 'pastry'. When we got to dessert,
we couldn't exactly find the spud in our spud with fresh fruit but it wasn't
bad. We found it a bit too sweet but the portion of fruit was very generous.
Though we absolutely enjoyed our little bites we are still clueless about the
wrap. As a side dish we were presented with a big bowl of vegetables. The only
downside was that our food definitely got heated up in the microwave making it
a bit soggy. Perhaps heating up in an oven would fare better.
If you have a
party or gathering, it wouldn't hurt to have Puff Pie cater for you. The bites
look very appealing and give a funky twist to regular finger food.