Pumpkin: Searching for the Perfect Chocolate Cake in Zamalek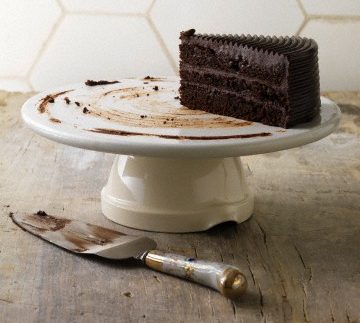 Despite Cairo's excessive sweet tooth, which has brought success to countless cupcake and frozen yoghurt shops in recent years, traditional cakes – made properly – are surprisingly short in supply. When recently hit with a cake craving, we hemmed and hawed over who might best satisfy our itch and decided to check out the Zamalek branch of Pumpkin for a slice of that ever-elusive chocolate cake.
Located on Taha Hussein Street, Pumpkin is a closet of a sweet shop. With no seating available behind the awkwardly heavy sliding door of the bakery, takeaway is the customers' only option. We weren't too bothered by this fact however, especially given that the bickering between the manager and staff member made for an uncomfortable atmosphere.
Excitedly, we placed an order for a triple layered chocolate cake (15LE), topped with chocolate shavings. Suggesting that the cake be served warm, the staff advised us to heat it in the microwave for two minutes, which seems an excessive amount of time. As this wouldn't be an option, we decided to sample some of Pumpkin's other offerings as well, all of which sell at a price of between 13LE and 16LE per slice.
Perhaps most famous for their cheesecakes, Pumpkin offers a variety of the sweet and savoury treat. Opting for a slice of caramel cheesecake we were disappointed to find that the cakes base was thick and crumbly, not the thin, crunchy layer that should hold the cheesecake. The caramel was sweet, yet grainy, and overpowered what was ultimately a thin layer of albeit well-executed cheesecake.
The black forest tart came on staff recommendation and fared better. A chocolate cookie base held layers of white chocolate cream and whipped cream, topped with bits of candy bars and marinated cherry. In spite of the tart's many sugary additions, it proved to be a balanced dessert. The pumpkin meringue tart, was equally satisfying. Chunky pumpkin preserves under peaks of toasted meringue made for an excellent autumn treat, even if the meringue was a bit too soft.
Unfortunately our chocolate cake did not stand up to our expectations. Rather than the rich, moist layers of cake between creamy frosting we were hoping for, the cake was hard and dry; as though it had sat in the cooler a few days too long – something that a microwave wouldn't have been able to fix.
The portion is generous however, but Pumpkin does a disservice by cramming it into a takeaway container too small for the height of the cake – proving that this is yet another Cairo bakery that, for all its merit, doesn't give chocolate cake the credit it deserves.