Qahwa: Laid-Back Café at Arkan Mall, 6th of October City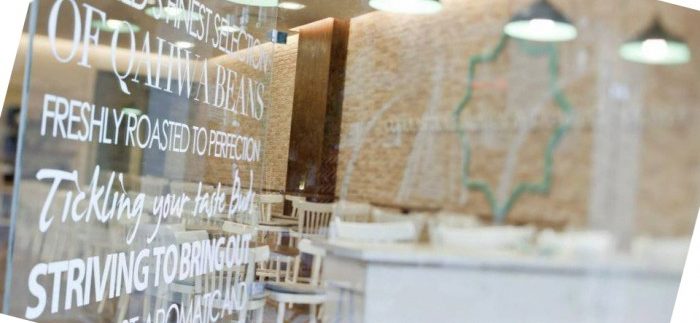 Central Cairo is inundated with packed restaurants and cafes, making the quieter parts of the city preferable when looking for a more chilled-out place to frequent.
For those living outside of central Cairo, looking for an everyday café, Qahwa is the place to be caught in. Centrally located to the left of 6th of October City's Arkan Mall, Qahwa draws you in any time of day; whether for a quick coffee, an early breakfast or to get some work done.
Designed with a modern Oriental touch, wooden floors and eggshell coloured furniture, the café gives off a laid-back vibe with an elegant twist. Divided into indoor and outdoor sections, the interior combines a few, round high-tables and uncomfortable high stools, overlooking the coffee and dessert bar. The more popular choice with the crowds, the outdoor seating arrangement boasts average-height, wooden tables and luxurious seats.
Qahwa's menu offers a variety of food and beverages, including a breakfast menu, various types of hot and blended coffee, fresh juices, salads, pastas, sandwiches and mouth-watering desserts.
Starting the day off with an early brunch, the sunny-side up eggs (30LE) and the vanilla latte (24) were the perfect choice for a filling meal. Served on two pieces of brown toast, with a side of sliced backed potatoes and green olives, the dish's generous portions and attractive presentation grabs your appetite at once, though the eggs seemed somewhat undercooked.
The vanilla latte was served in a large coffee mug, covered by a foamy white layer and topped with sprinkles of grinded coffee. Adequately sweetened by the vanilla flavouring, no sugar added was needed.
Famous for their desserts, we split a portion of their heavenly, marshmallow cake (35LE). Served in a deep dish and coated with caramel sauce, the marshmallow cake was brimming with sizzling, melted chocolate, complementing the side scoop of vanilla ice cream perfectly. A sugar rush kicks in rapidly through the mixture of sweet flavours, however those with a sweet-tooth, will undoubtedly come back for more.
While the seating arrangements at Qahwa makes the venue seem more compact, overall, the café provides a refreshing spot to eat, drink, work and socialise in.