Raspberry: Great Cheesecake in a Quiet Cairo Café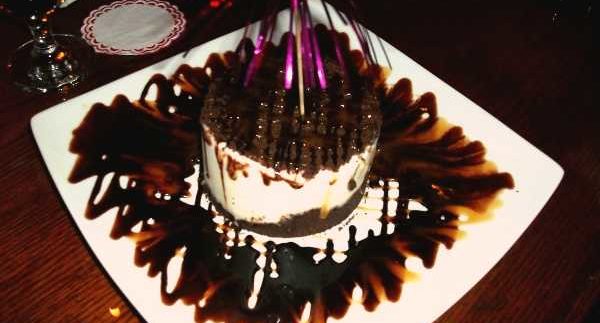 In Cairo, you have a whole
slew of restaurants to choose from but Raspberry is one that will leave you
with a strong urge to go back– not because the food is perfect; but because once
you step inside Raspberry, an ambiance of calm and quiet forces you to leave the
world behind.
Raspberry's distinct
advantage is that it's rarely packed. For one-on-one outings or a romantic
rendezvous, Raspberry boasts a fine, dimly-lit atmosphere that provides the privacy
and peace desired. You might want to steer clear of dropping by on a weekend, though; but then again, most places in Cairo are always crowded on weekends.
Raspberry's interior colours range
from brown to orange to rosewood, and the restaurant's wooden-based design contributes
to its overall dark effect. The wallpaper is a fusion of red, orange and yellow,
covered with scribbles by loyal patrons.
After a long and strenuous
hesitation and fed up 'ums' and 'ahs' on the waiter's part, we finally decided
on kicking things off with the light and digestion-friendly grilled chicken
salad (25 LE): shredded slices of grilled chicken on top of
an everyday green salad. The salad also comes with two slices of bread coated in
oil and seasoned with garlic. Although the salad was quite mundane, it's a perfect
choice for those who don't want to ruin their diets.
As for the main course,
dishes come served with two sides of your own choice; pasta with any of your favourite
sauces, French fries, rice or sautéed vegetables. Raspberry makes one of the
best creamy and cheesy Alfredo sauces in Cairo.
We ordered the Italian
chicken pizza (49LE), which consists of two pieces of deep-fried chicken breast
topped with mozzarella cheese, olives, chopped onions as well as mushrooms.
Raspberry also serves country fried chicken (50LE), which has a tasty and
crunchy outer layer topped with a slice of Cheddar cheese. Apart from the outer
layer, the chicken itself was bland and flavourless; definitely not the best
that this place has to offer.
When it's time for dessert,
Raspberry's Oreo madness wins hands down. This restaurant has succeeded in regularly
satisfying our sweet tooth with their scrumptious combination of vanilla ice
cream, Oreo cookies and chocolate sauce. However, Oreo madness is definitely
not a dessert for one, unless you want to send buttons flying across the table.
A good rule of thumb when it comes to dining at Raspberry is that sharing is
always better.
Oreo madness is not the only thing that will have you
drooling at Raspberry: for all cheesecake fanatics out there, Raspberry's
cheesecake (18LE) comes topped with your choice of diced strawberries and
strawberry juice syrup, chocolate syrup or caramel syrup. Whatever your choice
is, you'll lose track of the calories involved. After all, calories are just
numbers, right?