Everyone has been raving about Ratios Bakery in Maadi for years, so it was only natural that we stopped by this beloved bakery once again to see how their goodies continue to measure up.
The moment we set foot inside, we knew we were in for a treat. The place was crowded and smelled absolutely divine, which is always a great first impression. While we were somewhat overwhelmed by the chaos inside, with people moving left and right and the endless number of delicacies everywhere we looked, we were very quickly greeted by the unbelievably friendly staff, who didn't hesitate to give us recommendations. Between focaccia and turkey sandwiches to Danishes, there were so many amazing options to choose from, and it wasn't easy to decide. But we eventually came to a decision: for savoury, we chose tomato focaccia (LE 50), a vegetarian sandwich (LE 125), and a spinach Danish (LE 60). For sweet: cinnamon buns (LE 90) and chocolate chip cookies (LE 35 each).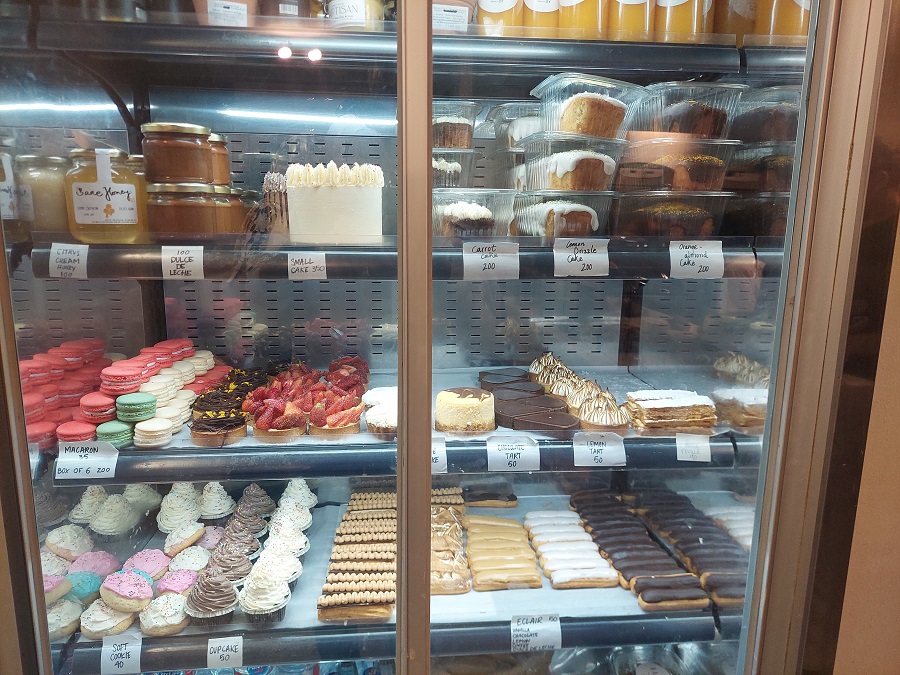 Once we got our food, it was time to find a seat. We were greeted by a lovely staff member, Aly, who didn't hesitate to ask once we made our way over to the seating area, "Can I get your names?" We were taken aback by how sweet and welcoming he was. While this could easily have been an awkward interaction, his spontaneity made us feel at home. He then showed us to a table, and it was time to dig in.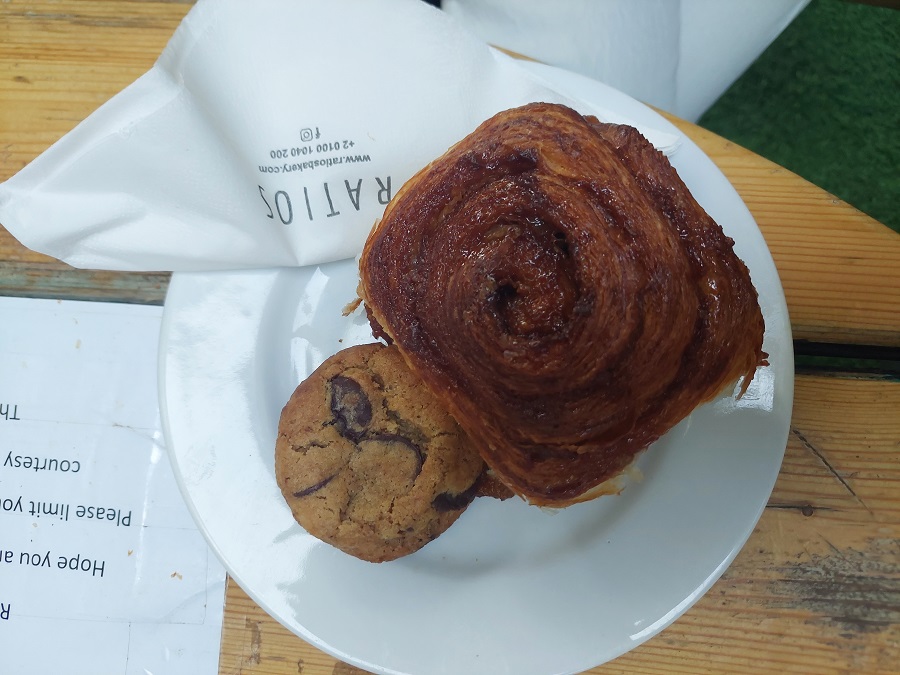 Once we dug into the cinnamon buns, our instant reaction was, "WOW!" It was absolutely scrumptious. Although we were full very quickly, we could not stop eating. The bun was on the chewy side, but to be honest, the flavour made up for it. We had trouble taking just a few bites out of the cinnamon bun to leave room for the rest of the food, which was just as delicious!
Next up was the vegetarian sandwich. Crunchy on the outside, soft and chewy on the inside, it was delectable. By the time we finished it, we couldn't help but think that mozzarella and eggplant were a match made in heaven. If we had to say one downside, it probably needed to be heated up slightly, but luckily that option is available.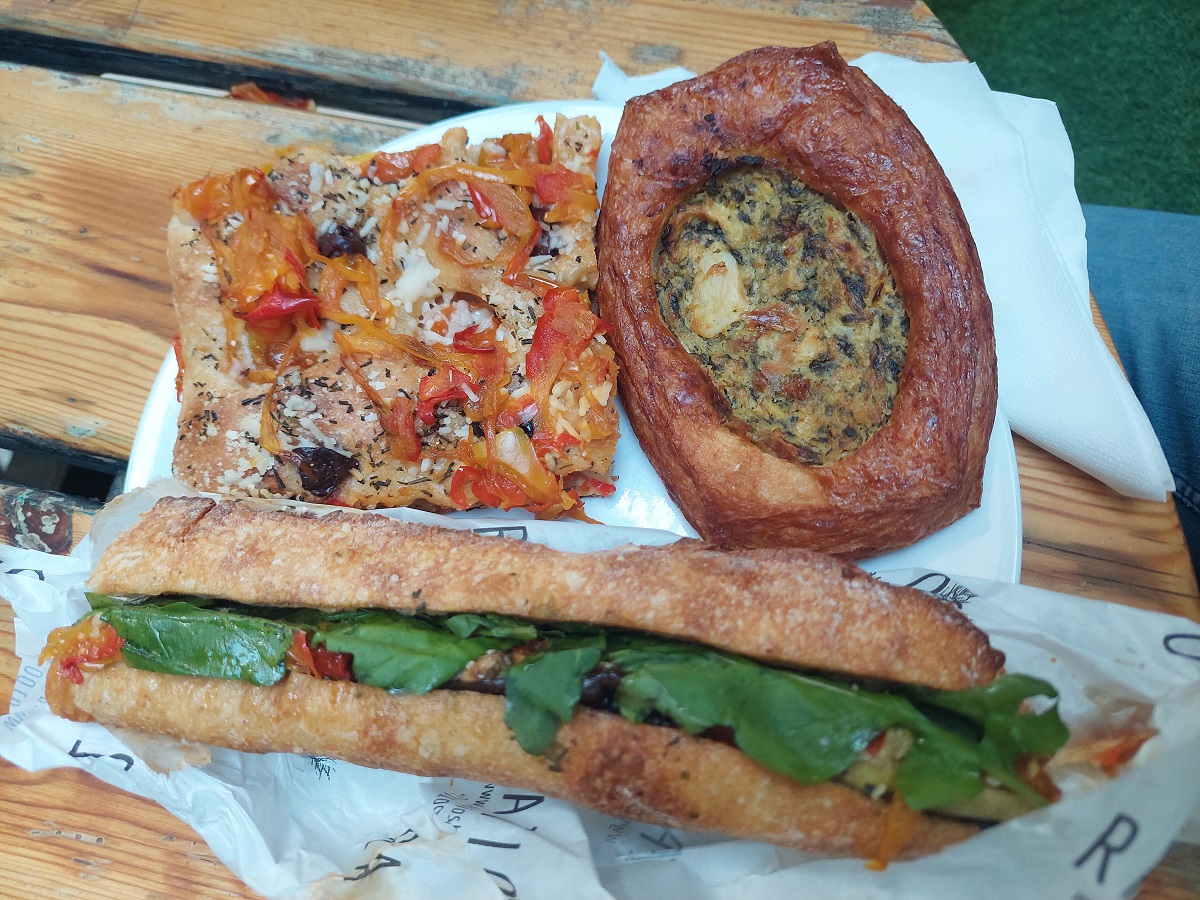 By the time we made it to the focaccia, our stomachs were full to the brim, but we had to persevere, taking long breaks between bites (see the struggles we go through to keep our beloved reader informed?). The bread was wonderfully fluffy, to the point where you could see the big air pockets inside. It was topped with the juiciest and freshest cherry tomatoes and was some of the best focaccia bread we've ever had!
Unfortunately, there was simply no room for the spinach Danish or the chocolate chip cookies by the end of our meal, so we munched on those throughout the day (spoiler alert: they were delicious. But more on that later). But there was definitely room for coffee! We had an americano (LE 45) and a cappuccino (LE 55), and you can take our word for it when we say it was exquisite. It was rich, yet not bitter whatsoever.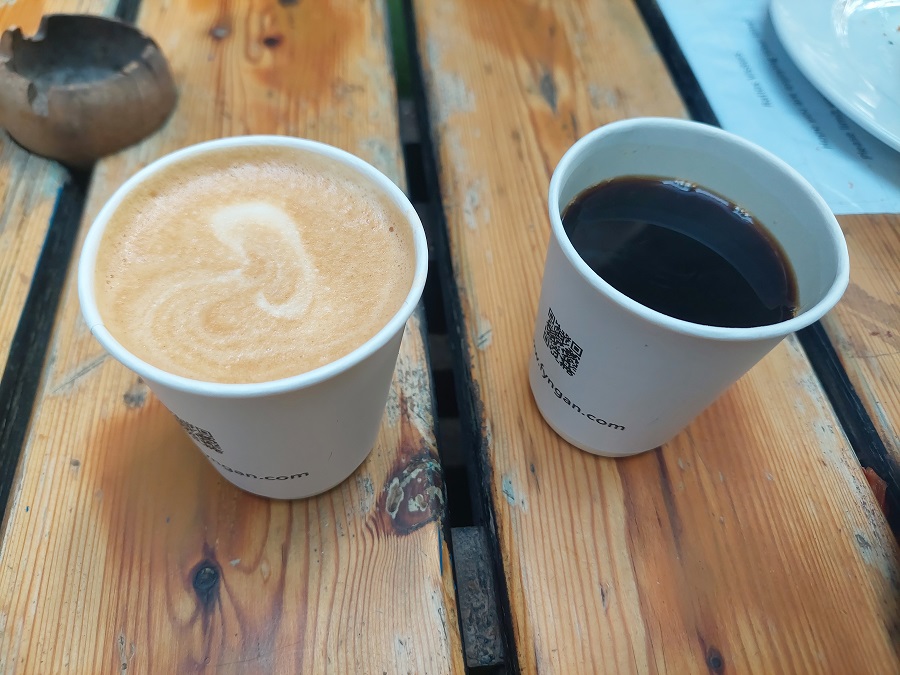 When we left the bakery, we kept taking small bites of the cookies and Danish throughout the day, and they left us speechless. Adding artichoke made the Danish all the more delicious, and the cookies were divine. They were soft, chewy, and everything you would want for the perfect snack.