Salé Sucré: Maadi Sweets and Treats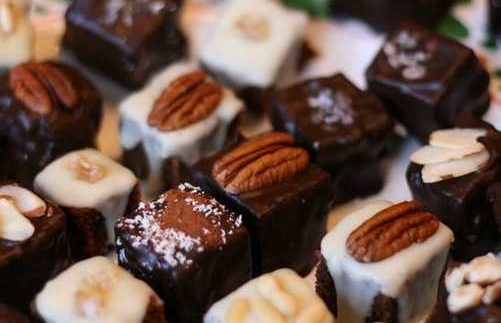 Sweet shop Salé Sucré has many venues in Cairo, including Mohandiseen and Roxy. Maadi's
side street branch is aesthetically pleasing while offering a range of
delectable cookies, cakes and oriental sweets. With large glass windows
displaying sleek cases of tantalising sweets, you can't go wrong.
While Cairo
suffers no shortage of good bakeries full of tempting cakes and yummy biscuits,
Salé Sucré
has something of a neighbourhood cult following. Upon entering, the smell of
freshly baked sweets rushes to meet you as you browse through the wonderland of
baked goods. There is a wide variety of cakes in the left-hand side display
case, from rich black forest cakes with decorative cherries and chocolate
shavings to creamy cheese cakes with brightly coloured berry glazes, in
addition to fruit and chocolate concoctions. Prices range between 50LE and
upwards of 200LE for a special occasion cake.
The central
display case carries every cookie, petit-four and tartlet that you could dream
of in a variety of bright colours. You can buy chocolate and walnut petit-fours,
date cake or berry tartlets by the kilo, which should cost around 60LE to
100LE. You can either hand-pick the selection yourself or choose a ready-made selection
of flaky biscuits, chocolaty petit-fours or fruit and custard tartlets.
While the shop is dominated by miniature sweets, large
cakes and sweet breads, a section of the counter is also stocked with savoury
pastries, cheese and mini-deli sandwiches. These are also sold by the kilo,
with an average of 60LE per kilo.
With Ramadan upon us, patrons can find all their favourite
Ramadan desserts here, starting from a 1/4 kilo box. The oriental sweets are
artfully arranged on tall silver platters, including the basbousa, which is the
perfect blend of sweetness, konafa of every kind, and sticky pastries with both
nuts and cream.
The prices are quite reasonable: a kilo of petit-fours
and mini-cakes starting at about 80LE, and 1/4 kilo oriental sweets starting at
35LE. For the divine taste and sugar rush that Sale Sucré induces; this is not
a bad deal. The service is great; the staff are spot on with orders and eager
to help you choose from the baked delicacies on display.