TBS – The Bakery Shop: Fresh Baked Goods in Cairo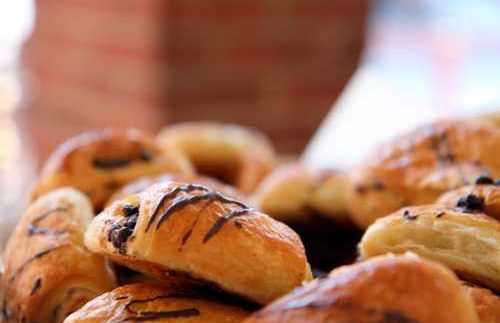 Have you ever
tried a basterma croissant? We have, and
they're fantastic! We were lucky enough
to sample the wares of TBS– The Bakery Shop– recently and boy, were we in for
a treat!
Not really knowing
what to expect– perhaps another run-of-the-mill attempt at a decent bakery in Cairo?– our visit had us
swooning when we walked into the bustling shop filled with busy staff and
customers milling among the sweet smell of freshly baked goods. The store was neatly
arranged in a traditional bakery style, with brick walls and all sorts of
goodies just waiting to be eaten.
Making our
choices was quite difficult, as we would have gladly walked out with the entire
store's contents, Eventually we decided on a basterma croissant (9LE), pain au
chocolat (7LE), a powdered sugar and jam donut (6LE), and a multigrain brown
baguette (11LE) to give us a fair sampling of their selection.
Not only was the
shop's presentation impressive, but the goods were up to par and surpassed our
expectations. The basterma croissant was
quite the treat with extremely fresh layers of flaky, buttery pastry that were
incredibly light, making a nice addition to a savoury breakfast.
If sweet is your
preference, the pain au chocolat is also fabulous; with the delicate pastry containing just
enough chocolate to satisfy your sweet tooth without sending you into a
glycemic coma.
Home to supposedly
the best doughnuts in town, TBS's powdered sugar and jam doughnut was
good. The spongy confection was also
light and airy, which is odd for a doughnut, but made it refined. Soft in some spots and crispy in others, the
pastry had been sliced in half and spread with a flavourful fruity jam that
elevated it above simple synthetic jelly fare. However, not everyone likes to have their classic doughnut
tampered with.
The brown
baguette also did not disappoint, with a hearty nutty flavour that wasn't too
dry or too mealy and we can't wait to fill it with goodies and take it work in
a perfect sandwich.
There's no
denying that TBS are experts in their field; they make us want to move in next
door just so we can buy their freshly baked bread every morning. This one's not to be missed and we can't wait
to try the rest of their flavoured croissants, including cheese, thyme and
almond.