TBS – The Bakery Shop: Fresh Brunch at Sheikh Zayed's Arkan Plaza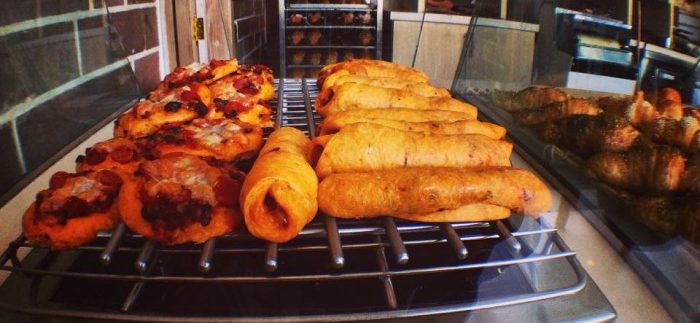 Brunch: the wonderful, yet slightly obscure to this region, concept of a meal that fits between breakfast and lunch. It's the perfect meal for lazy, laid back days and TBS, perhaps one of Egypt's finest bakery chains, seems to be the perfect place to feed our mid-day rumbling bellies.
The branch at Sheikh Zayed's Arkan Plaza presents TBS's signature modern design of basic off-white and wooden brown colour scheme complimented by immaculate glass windows that allow the light to ever so brightly seep into the adequately sized bakery. The minute we walked in, our nostrils were gleefully attacked by the delicious scent of fresh baking and our eyes went straight to the fridges and displays boasting a wide array of edible eye-candy. Our server greeted us and waited patiently while we tried to make up our minds on what to order.
With regards to what TBS has to offer, its menu is composed of many sweet and savoury croissant variations (7.75LE to 11.25LE/piece), alongside different types of baguettes, toast, tarts (9LE-12LE/piece), Danishes (9LE), muffins (7LE-9.50LE), cronuts (9.50LE), cookies, mini pizzas and donuts (8LE.25-10.50LE). TBS has also very recently launched some new pastry items including Raspberry and Blueberry tarts (12LE), the vegetable (10LE) and chicken (13.75LE tarts), as well as sun-dried tomato, spicy feta and mint feta puffs (8.25LE). You can also customize your own sandwich, by picking your own baguette and fillings. Of course, you can also enjoy a freshly-squeezed juice or some coffee with your treats. As you can see, the options are plentiful.
After taking slightly too long to figure out what to choose, the server swiftly boxed and packaged everything neatly. The first bite we took was of the Multi Cereal Croissant (8.25LE), which tasted light, decadent and better than any white croissant we've ever had – healthy options can actually taste good, after all. After that, we dug our teeth into the Rix Milano (9.25LE), which is basically a dough-wrapped sausage, and it tasted just as fresh as the former. The Mini Pizza (7LE) was also quite delicious, though tasted very similar to the Rix Milano. The Almond Croissant (8LE) was quite delightful, sweet and topped with slivered Almonds, but needed a tad more filling, as did the Pain Au Chocolat (9.25LE).
TBS seems to have successfully retained its quality whereever it has gone, with everything tasting exceptionally fresh. Moreover, the servers were, as always, welcoming and efficient and the place was spotless and neat, giving us all the more reason to come back.