Tchapa Lounge: Simple, No-Nonsense Café in Heliopolis
15 Abdel Hamid Badawy St. (opposite Gate 1 of El Shams Club)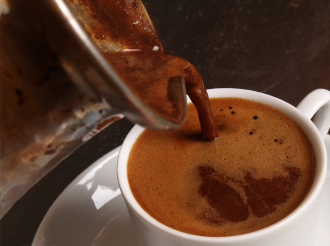 Close to Nady El Shams in Heliopolis, Abdel Hamid Badawi Street is somewhat of a focal point when it comes to dining in the area, with an array of cafés, restaurants and even shops filling up its pavements. Although the street is in the heart of Cairo's relentless traffic, its venues somehow escape the cacophonic disorder. With so many new spots opening up, all equally alluring, Tchapa Lounge caught our attention with its attractive shopfront and tranquil colour palette.
Made up of two floors, we initially chose to sit upstairs. However, when the promised Wi-Fi wouldn't work on the top level, we resorted to sitting on the ground floor instead. Sadly, while using the same tones, the interior does not match the chicness of the exterior, or the attention to detail given to it. The layout of the space and the seating arrangement also lack a designer's touch but staff were quick to point out that the café -come-restaurant is to be renovated.
Focusing on the food, the menu offers international cuisine, similar to most venues of this sort. We asked the waiter for recommendations and appreciated his honesty in giving them to us, even though he 'un-recommended' certain items as well. In the end we settled on the fettuccine carbonara with salami and tomato slices (38LE), Tchapa beef filet (70LE) with mushroom sauce, sautéed vegetables and basmati rice, as well as spring rolls (31LE) to start.
The spring rolls were a downright mistake. Coming in six pieces, they were fiery hot and lacked in taste and the fillings' flavour didn't come through at all – they didn't seem fresh either. On the other hand, the pasta was delicious. Rich in cream and butter with pieces of salami, it was well-cooked and came served large in portion. The filet was also excellent – albeit a little late to arrive – as were the vegetables and rice. Everything was cooked as per requested, and it's a good, safe dish.
Dessert was a must after our meal and we decided to have some ice cream. At 9LE a scoop, the mango ice cream was creamy, full of flavour and much work had gone into its presentation. Being a café, we tried their Turkish coffee(9LE) and it was made to perfection.
The service was very pleasant and merry, and you can expect to receive five star treatment. Ultimately, there were few true criticisms of the café and we're looking forward to see what their new décor has in store.