Tea Lounge at Four Seasons Hotel Cairo: Classy Coffee Time
Four Seasons Hotel Cairo At The First Residence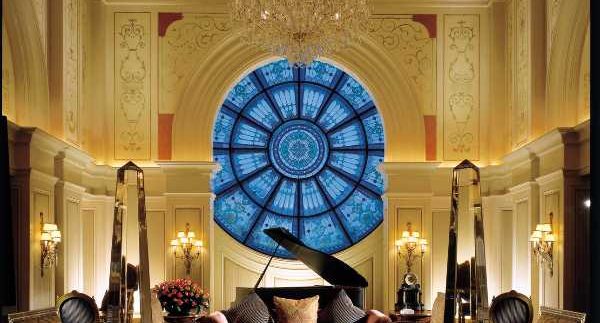 For an alternative tea and lounging
experience, try the Tea Lounge at the Four Seasons Hotel Cairo. This lounge
room and tea parlour features opulent decor dressed in beige, burnt orange,
brown and lots of gold. Thick carpeting and Louis XV dark wooden furniture
grace the floors, as a baby grand piano at the front of the room softly tinkles
away jazz standards and pop classics.
This is the perfect location for a quiet
business drink or a formal meeting. It could also work as a ladies' club
outing, where patrons wear heels, furs and designer skirts. Read between the
lines: this is not a place you wind up in if you've just rolled out of bed and
are wearing torn jeans.
Tea Lounge serves a wide selection of teas
(30LE), wines (45LE to 120LE for a glass), grappa (65LE), cigars (starting
220LE) and cocktails (75LE), as well as an impressive afternoon tea menu served
between 3PM and 6PM. The afternoon tea menu (115LE) includes raisins and
traditional scones, English fruit cake and strawberry jams, along with whipped
and lemon creams.
The lounge also serves a few savoury dishes
such as the Lebanese mezza sampler (95LE), which includes delicious hummus, taboulah,
labnah, kebbeh and cheese sambousak alongside baladi bread. For a main course,
the grilled jidoori (75LE) is a rather disappointing dish of grilled chicken in
a flavourless bean purée with lemon vinaigrette. If there's something that you want but is not on the menu, the attentive and very professional staff will make it
promptly, even if it's as simple and unrefined as a grilled cheese sandwich.
At the time of our visit, we were saddened
to discover that the Tea Lounge's chocolate sundae was, in fact, only available
on Sundays; but the waiters were kind enough to bring out several dishes of
their best pastries and bite-sized chocolate delights to compensate, including
cream-filled cakes with berries, cocoa-covered chocolate balls and bite-sized
marzipan chocolates. If you're celebrating a special occasion, the lounge's
chef will tailor-make a chocolate cake with the icing colour and message of
your choice. Although the rich chocolate cake that we had ordered was intended
for two people only (65LE++), the portions were generous enough to satisfy a
party of at least four.
For non-alcoholic options, fruit
cocktails (45LE) such as the California coastline (mango, orange and lemon
sorbet) and tropical joy (banana, strawberry, pineapple and kiwi) are
delightfully fresh with just the right amount of fruit in them. Tea fanatics
will appreciate the selection of fruity tea cocktails that combine blackcurrant
with lemongrass, or china gunpowder with peppermint for that edgy punch to an
otherwise traditional tea experience.
All in all, the Tea Lounge may not be the
most swinging spot in Cairo, but it does provide excellent service in a posh
atmosphere, with the occasional celebrity sighting to keep things interesting.
It may not be a date-worthy spot, but it will impress those seeking a quiet and
chic coffee occasion.