The Salad: Light, Healthy Snacks in Heliopolis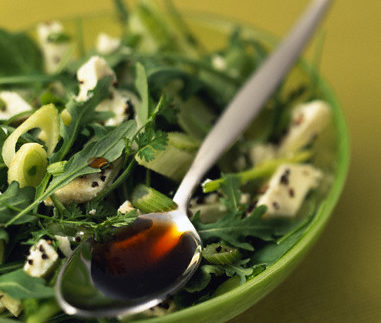 Let's
face it; in a city like Cairo, keeping a slim figure and eating healthy is
quite difficult. The city is blessed with a zillion restaurants and with 24-hour delivery options, slogging in the kitchen, cooking yourself a meal and
ending up with a dirty dish makes no sense. The downside is that most of these
meals are carbohydrate nightmares. Thankfully, someone out there has heard our cry for
affordable, healthy food; the Salad is a café/salad bar in Heliopolis that adores
greens and vegetables just as much as we do.
The
Salad is located in the heart of Korba on Thawra Street just around the corner
from Le Chantilly, TBS and Beano's. There is a small terrace outside with two or
three tables. Inside the decor is mostly modern and funky, except for a few antique elements such as an old telephone and iron. Though the idea is nice,
we don't really see the point of having old dusty objects in a restaurant. There
are also various board games available in case you want to kill time. You can
take a seat on one of the tables with chairs or the couch. The
small open kitchen and the salad bar are located in the back of the room.
The
system basically works as follows: you order a basic salad such as Caesar
(21LE), Greek (15LE), Waldorf (18LE) or tuna (20.5LE) amongst others. From
there on you order additives like mushroom (3LE), cold cuts (10LE), shrimp
(20LE) or cheese (5LE). You also get to pick a dressing and can choose from
many different ones like blue cheese, vinaigrette or thousand island.

We ordered the seafood salad (30.50LE) and
the rucola salad (12LE) on which we added blue cheese (5LE), avocado (8LE) and
fresh mushrooms (3LE). The seafood salad was very generous; the portion was
huge with lots of shrimp and calamari. The only thing we were
missing was salmon. We found out that the salmon was still frozen and therefore unservable. The salad itself was pretty agreeable but was a little heavy on the dill, which overwhelmed the flavour of the seafood.

The rucola salad was delicious, but the portion was relatively small;
so you should ask for many ingredients to be added if you want to feel full. We ordered it with the blue cheese dressing on the side but hardly
used it; the olive oil alone was enough to give the salad its tasty bite.
We ordered
a cappuccino shisha (12LE) as 'dessert'. The shisha tasted quite good and
flavoursome, and the coals were changed swiftly and regularly. We also requested
tea with honey and saw the staff running to the supermarket to get the honey
for us. For lunch or breakfast, the Salad is definitely a nice spot to hang out while
consuming your daily dose of healthy food.