The Tipsy Teapot: Charmingly Unique Cafe in Maadi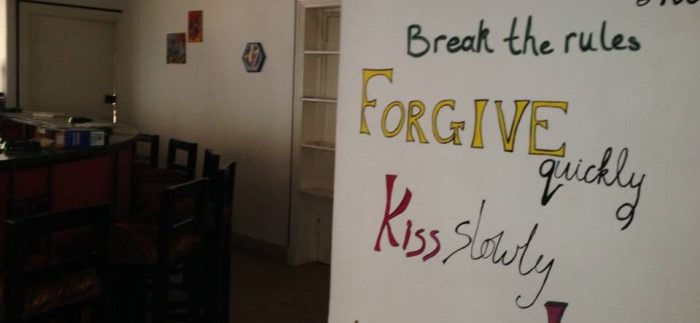 When in the mood for a quiet breakfast or brunch in Cairo, Maadi is the place to go. Located in the quiet area of Sarayat El Maadi, the Tipsy Teapot offers visitors a blend of the welcoming clubhouse feel and the relaxing quiet typical of the green neighbourhood.
Following the trend of revamping villas and turning them into places of food and beverage, the Tipsy Teapot gives its customers a number of seating choices in several different rooms all containing comfortable couches, one of which has a wide selection of books for the avid reader and another with a pool table for a night out with the boys.
The Tipsy Teapot's charm comes pimarily from its aethetics, which translates into its atmosphere. The easiset way to describe it is that it somwhere between a gallery, a workshop and a buddy's house. Encouraging and throughtful qoutes are written across the walls and everything blends in a vein of organised randomness.
Serving breakfast between 9AM and 1PM, and then lunch onwards, the cafe offers a range of hearty breakfast meals like pork bacon pancake dippers and brie and raspberry jam sandwiches.
The lunch menu contains a selection of sandwiches and pastas, plus salmon and steak dishes.
The dessert and drinks menus were slightly more interesting with options such as brownies and banana bread, creamy smoothies and fruit blenders.
We arrived a little after lunch so we opted for Lemon and Chili Calamari Rings (30LE) for starters and Tipsy's Cheese Burger with Bacon (60LE) as a main course.
The calamari was served on a bed of arugula and with a side of tartar sauce and lemon wedges. The burger sat next to some homemade potato wedges, a skewer of grilled vegetables and red cabbage coleslaw salad.
The burger, which they claim to be 'the Best in town', was slightly disappointing. While definitely juicy and served within 20 minutes of ordering, the patty couldn't compete against better established burger joints simply because the quality and freshness of the meat. The overall sandwich doesn't blend well together, even though the ingredients are basic, and at times feels like it's coming apart. While it would receive extra points for using real bacon, sadly, the bacon was undercooked and took away from the experience.
After lunch we decided to give the tea and desserts a shot. We ordered a Herbal and Fruit Tea (15LE) and Banana Bread (30LE). Disappointing again was the fact that they simply used packets of Ahmad Tea packets which lost some of the authentic value a place bearing the word 'Teapot' in its name.
The Banana bread, on the other hand was quite tasty. Although a little too dough-y, it was perfectly sticky with pieces of fresh banana; a greatly enjoyable treat on a sunny afternoon, maybe after a long walk.
The garden area outside is welcome to dog owners looking for a refreshment after a day out with their pets, a major convenience for many Maadi residents, most of whom are pet owners.