Unita Café: Gaudily Decorated Café in Mohandiseen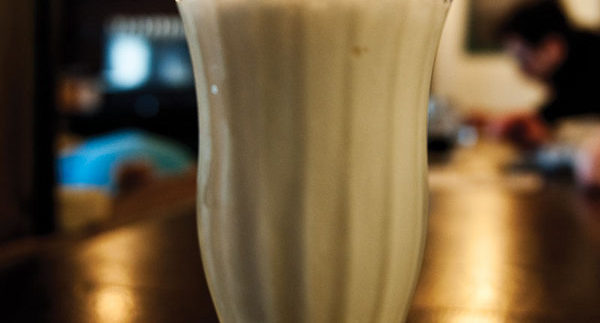 If there
is one thing the neighbourhood of Mohandiseen doesn't lack it's the presence of
cafés. That's especially true of the area between and around Aswan Square off
of Gamaat El Dowal Street is. Unita café is located just underneath the Atlas
Zamalek Hotel and you can spot it by the relatively big terrace. We spotted it
because of its peculiar logo of a joined crescent and cross. Though we have
seen this sign all over Egypt, we find it a bit strange to use it as a logo for
a café. Seeing the name and this logo Unita's purpose is probably to unite
the people of Cairo.
Unita Café
is quite big. Apart from the terrace there is a small first floor with a few
seats and a quite large upper floor. At the time of our visit we choose to sit
upstairs with a view of Gamaat El Dowal Street. The interior is mainly brown
with orange and white calligraphy print couches. Though the couches look
attractive they weren't that pleasant to sit on. We fell back quite deeply in
them and had trouble reaching for the table afterwards. The decoration in Unita
still makes us cringe just thinking of it. It was a strange combination of Tutankhamen
masks, marble chandeliers and ashtrays, theatre play books, a dart board and a
Nefertiti bust with a shisha neck on top of her head. Quite disturbing to say
the least.
The menu
wasn't that exciting and offered the usual sandwich and salad options. We
wanted to have a bite of tahina and the kofta sandwich but unfortunately both
weren't available at the time of our visit. We therefore settled for the BBQ chicken
sandwich (25LE). The sandwich came presented with fries and a strangely shaped
carrot. The fries unfortunately were still raw on the inside. We hereby like to
give some advice to all chefs in Cairo; if the fries turn brown they are not
necessarily ready, it just means you have to change your oil. Anyway, back to
our meal; the white-bread sandwich was filled with chicken pieces, lettuce,
mayonnaise and onions. The chicken was incredibly over seasoned. We tasted
nothing but pepper and felt thirsty for the next two hours. The overall taste
of the sandwich wasn't terribly bad but to be honest, we can get a sandwich
like this from a street vendor for 3LE.
On the
other hand, our vanilla milkshake was delicious. It wasn't too sweet and was
very creamy, and we would have happily devoured another one if it wasn't so
fattening. The staff was friendly and attentive which probably wasn't too
difficult since we were one of the few customers. Though Unita Café might be
all about uniting we suggest that you unite someplace else. There are way
better options in nearby proximity.