Waffle Bees: Quality Waffles Made Fast in Mohandiseen
19 Abdel Hamid Lotfy St., (Behind Mostafa Mahmoud Mosque)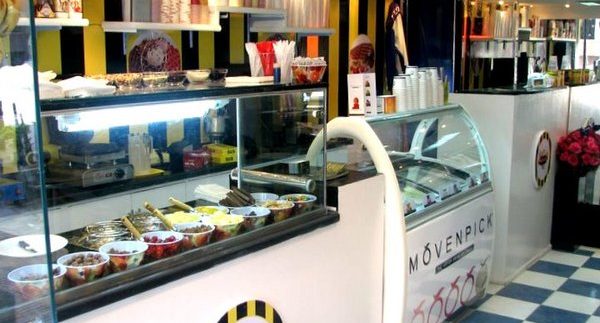 The invention we call the waffle drives
this reviewer crazy. Every time we find a waffle place, we have no hesitation
in darting in and trying everything it has to offer. In fact, waffles have
slowly but surely become this reviewers favourite sweet in Cairo. Located in
Mohandiseen behind the Mostafa Mahmoud mosque, the yellow lights of Waffle Bees
enticed us through its doors.
Like most waffle places around Cairo,
Waffle Bees is pretty small. The interior's space is occupied by a couple of
high tables and several chairs. The additives and toppings, a fridge full of
drinks and the waffle-maker are all located in and around the large bar. So
far, nothing stands out as particularly special about Waffle Bees, but it's the
quality of waffle that makes this shop different.
The menu is pretty small and offers six
options, the first of which is the waffle basic (15LE) to which you can add
basic toppings such as chocolate, caramel, cinnamon and whipped cream. The
waffle topping (20LE) allows you to get a little more adventurous with fruit,
chocolate chips, marshmallows, chocolate bar pieces and more. The waffle with
ice cream (20LE) cranks things up a notch, as it offers you a choice of Mövenpick ice cream to your waffle. If that isn't enough, you can combine the
latter two (25LE). Alternatively, you can have some of the said ice cream for
10LE.
Service at Waffle Bees is fast and
efficient. The staff prepare the waffles as you decide on which toppings you'd
like to add, which reduces waiting time. The waffle itself was cooked perfectly
and the toppings were noticeably fresh, especially the fruit. Different sauces
are available at your discretion to give your waffle as much or as little kick
to it as you'd like. For chocolate lovers, we recommend the dark chocolate
sauce as opposed to the Nutella chocolate spread, as it's much lighter but just
as tasty. The waffle with ice cream was a particular delight; the ice cream was
crammed into the waffle to make some sort of heavenly waffle-ice cream
sandwich. Everything is prepared in
front of you, and there are plenty of napkins to help with the inevitable mess
you'll make as you dig in into your waffle.
Waffle Bees is reliable place to go when
you get that occasional waffle craving. It delivers on all fronts; reasonable
prices, fast service and quality waffles.