Waffle House: Cairo's New Home of Dessert Waffles
5 Mohamed El Medhi Street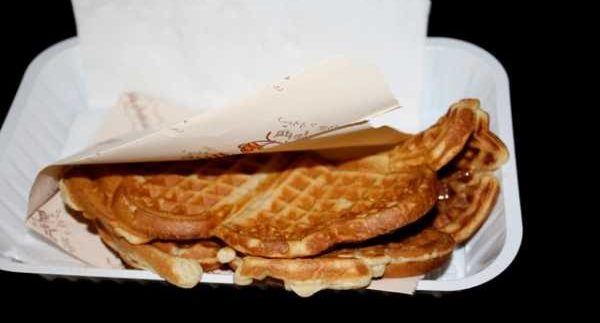 Many salivating images come to mind upon hearing the simple buzzword 'waffles'. Gigantic, crispy and fluffy waffles generally can do no wrong. Lately, there
has been lots of talk about a spot acquiring a new cult following in Heliopolis called the
Waffle House.
On a tiny street in Ard El Golf, you'll find a little café with big
signage called the Waffle House. It's basically a mini-café with four high
tables and a young man behind the counter making all the waffles on one small
waffle iron. Translation: this place is not quite group-friendly.
The major drawback to this waffle joint that anyone will notice straight
away is that the product is not quite as epic as one would expect from a 'waffle
house'. Don't expect the waffles to be big, fat Belgian waffles. They're more
like super thin waffles that actually arrive folded in half like a sandwich.
There are four types of waffles listed on the menu: basic waffles,
waffles with extra toppings, ice cream sandwich waffles and extreme waffles.
Basic waffles are waffles with two toppings of your choice; including a combination
of various jams, Hershey's syrups, peanut butter or maple syrup with your
choice of chocolate chips, powdered sugar, M&Ms, cinnamon or sprinkles.
Basic waffles are basically disappointing. Unfortunately, the quality of
the ingredients that the Waffle House uses is not quite up to par. The peanut
butter has some bizarre aftertaste due to some very odd oil, it seems. The
maple syrup wasn't real maple syrup, either. It was the sugary, high-fructose
kind, and it soaked through the thin and weak waffle.
A better option is to stick to the extra toppings waffles, and order a
waffle with fresh bananas, kiwis and strawberries.
The Waffle House serves Mövenpick ice cream, which makes for one
delicious ice cream sandwich if the ice cream didn't totally drown the waffle
itself. At least the product quality is up to par with the ice cream.
Dare devils should try the waffle extreme, which is basically your
choice of any topping, sauce, jam and fruit combination that strikes your
fancy.
The waffles are generally not that filling, with the exception of the humongous waffle extreme, but they're also not that expensive.

Basic waffles go
for 15LE, extra toppings or ice cream sandwiches cost 20LE and waffle extremes
cost 30LE.