Waffle Maker: New Gluttonous Waffle Shop in Zamalek
6, El Gezira El Wosta Street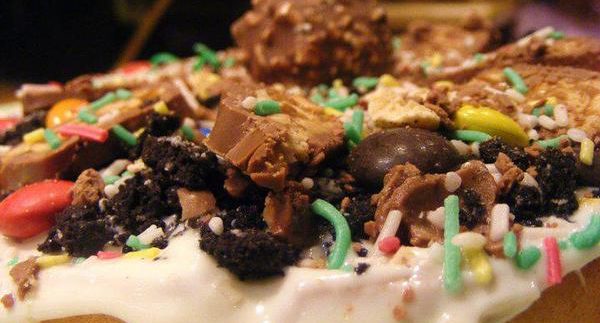 Already rich in dessert spots, Zamalek has
been given yet another wonderful addition with the opening of Waffle Maker. Not
only does it serve some of the most delicious waffles around, but it's cosy, chocolate-themed interior leaves you hungry for more. We visited Waffle Maker shortly after its
opening and located on El Gezira El Wosta, down the street from Flamenco Hotel.

Waffle Maker consists of two floor and the staff there is friendly. Downstairs, the seating consists of a
single table with two chairs made of chocolate-coloured wood. The upstairs
area provides more seating, with three tables that have two chairs at each. Although
there is more seating upstairs, some might find it uncomfortable as it requires
climbing up very steep steps; the ceiling up there could be too low for some,
so watch your head.
The waffles come with sweet and savoury toppings and we ordered a regular sized one for 15LE. The regular sweet waffles are freshly baked and come with basic toppings that include chocolate, white
chocolate, caramel, blueberry and maple syrup, honey, peanut butter, jam,
whipped cream, powdered sugar and cinnamon. With so many delicious toppings it
was a hard choice to settle for just one, but the portion turned out to be more
than adequate with a generous layer of the Nutella that we'd settled on. For an
extra 5LE, you can get a large waffle.
Many of us can get strong cravings for
something sweet and might want a couple or more toppings. In
this case we would suggest the 'Topping Waffle' that comes in both regular and
large sizes starting at 20LE and going up to 25LE. This waffle comes with a
choice of any of the aforementioned basic toppings, as well as one or more of:
strawberries, banana, kiwi, pineapple, peach, cherry, marshmallows, nuts, sprinkles,
cereal, chocolate chips, Oreos, as well as many known chocolates such as Kinder,
Flake, Ferrero Rocher, Snickers, Mars, Kitkat, M&Ms and Maltesers.
Since it's summer, one might try the 'Ice-cream
Waffle' (regular 30LE, large 35LE) which comes topped with one topping from the
'Regular Waffle' and one topping from the 'Topping Waffle' and your choice of ice-cream
from Haagen-Dazs or Ben & Jerry's.
Finally, Waffle Maker offers the 'Melted
Chocolate Waffle' (regular 20 LE, large 25LE) which provides you with a melted
topping of chocolate; the choices include Milka, Kinder, Galaxy and Mars.
As for the savoury waffles; they are priced
like the sweet ones but with a choice of toppings such as cheese, sausage, turkey,
beef bacon, salami, smoked beef. They even offer a smoked salmon waffle with lettuce
and mayonnaise (regular 23LE, large 28LE).
If you need a refreshing shake, Waffle
Maker has the perfect shakes for you. At 18LE the flavours include Twix,
Snickers, Kitkat, Borio, Maltesers, Kinder and Mars.