Waffle Mania: Dependable Waffle House in Heliopolis
11 El Lewaa Ahmed Mohamed Ali St.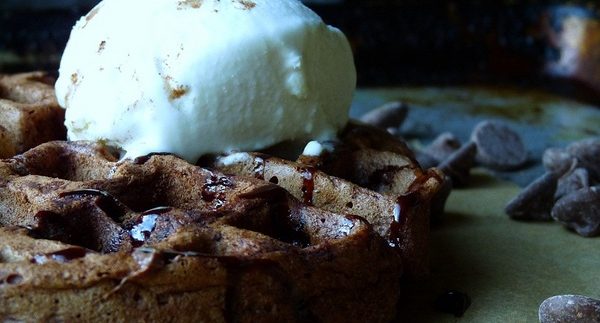 Behind the Shams Club, on one of the quieter streets in Heliopolis, Waffle Mania, apart from being adorned in glass and brightly lit, doesn't look like much from the outside. There is a serious lack of seating; we counted just two stools and spied some thin shelves on the walls acting as tables.
We can't say we were impressed; the grubby floor and walls didn't exactly convince us to eat in. But at least the counters looked clean and the staff were wearing gloves.
The small menu is scribbled on a hanging white board, half in English and half in Arabic, but with all the toppings and ice-cream out on display, the mix of languages wasn't too much of a problem. Apparently, they are getting paper menus soon even though Waffle Mania has been open for as long as anyone can remember but you never know, miracles do happen.
Waffle Mania don't just serve waffles, they also have a selection of milkshakes (8LE), yoghurts (10LE) and alternative fresh juices such as watermelon, pomegranate and cantaloupe for just 7LE each. A large glass ice cream counter proudly presents some tempting M
ö
venpick flavours including Swiss chocolate and vanilla, as well as crème brûlée, blackberry and pistachio (8LE) for the more sophisticated palate.
Hankering for some waffles, we turned our attention away from the ice cream and put our efforts into the task at hand. All the waffles, even the basic waffle (12LE/15LE) come with one base topping of Nutella, dark or white chocolate sauce, in either small or large. For a second round of toppings, we eyed a small but adequate selection of chocolate bars and biscuits behind the counter, and when we asked, we also had the choice of kiwi, banana, peach and pineapple.
You can also opt to have ice cream as a topping (17LE/20LE) or go for an extreme waffle (27LE/30LE), with a whopping six different additions.
For our first, we went for one small 'waffle topping' (17LE) which allows us a choice of two toppings on top of the base sauce. If we had gone for the large we could have had three (20LE), however, not wanting to overload on chocolate any more than was absolutely necessary, we combined fresh banana, Snickers and Nutella.
Although this mix sounds sickly, it proved to be a pretty good combo. The waffles were thick and soft – though not dissimilar to ones that can be made at home – and the banana tasted fresh, whilst the peanuts from the snickers added a nice, crunchy twist to the pool of melted chocolate.
Next we opted for the slightly larger version (20LE) to allow for a double helping of Kitkat, Oreos and another Nutella base. Again, we felt the waffle itself wasn't far out of the ordinary but the Nutella base was generous and gooey, the famous Oreo biscuits were as crunchy as ever and the melted Kitkat was somewhere between the two.
When we requested a cold soda to wash our waffles down with, we were swiftly directed to the koshk just outside, which was a bit strange but not terribly inconvenient.
Do you ever suffer from the late night munchies but regularly can't be bothered to cook up all the eggs and milk in the house? Then we'd suggest giving Waffle Mania a call for delivery, just as long as you're not expecting anything spectacular.