Waffle Point: Delicious Calorie-Laden Waffles in Heliopolis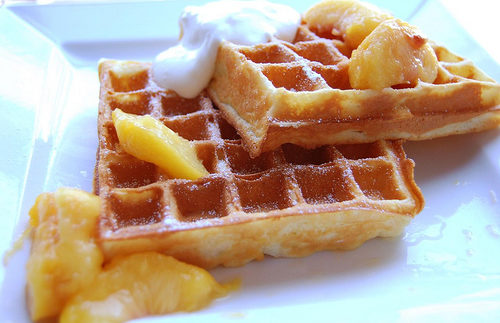 It's always a good idea
to stop for a sweet snack after a long shopping trip. Although many waffle
shops are popping up around the city, we decided to give Waffle
Point in Heliopolis a go.
Located on Al Thawra
Street right before Al Thawra tunnel if you are coming from the Roxi area,
Waffle Point's bright pink and blue signage is difficult to miss. Since this is
a constantly crowded area, we have to give you the heads-up that finding a
parking spot right outside Waffle Point is all but impossible.
The venue's interior is
small and can easily get overcrowded, but the waiters work quickly. If you are
anything like us, it takes you a lot of time to make up your mind
about your waffle toppings and you might just wish that the waiters worked a
bit slower.
Waffle Point has a few
seats placed in a bar-like fashion, leaving plenty of room for customers to
finish off their waffles standing.
The only available menu
is displayed on the wall, but we decided that the glossy names didn't provide
adequate explanation, so we simply asked the waiter for help. Slowly explaining
to us that a basic waffle (18LE) comes with two fillings of your choice, we
were hard-pressed ui choosing. Among the myriad of fillings that can be seen
through a glass display, you can find Nutella, caramel, white chocolate,
strawberry, cherry, hazelnut, peanut butter, jam, halawa spread and banana
fillings. There were other fillings that came in interesting colours, but we
decided we had already bothered the waiter with too many questions.
We had three basic
waffles, and we had fun with the different combinations of fillings. Nutella
and caramel make for an extremely delicious concoction, but might leave you in a
sugar rush. Nutella and hazelnut blend well together and taste perfect.
The waiter also told us
that for an extra 3LE, you can add a few slices of a single type of fruit. Adding
chocolate will set you back 5LE for a single type and 7LE for two. For 5LE,
you can add one type of nut.
Waffle Point also offers predetermined
combinations of toppings and fillings. The choco waffle (20LE) has cocoa mixed
in the dough and comes with two types of chocolate fillings. The cinnamon
waffle (20LE) seemed like a lighter option with cinnamon sprinkled across the
top. Other options include the coco choco waffle which has coconut and the
apple cinnamon which is served with chopped apples, caramel, cinnamon and almonds.

For an extra sugary
experience, you can add ice cream to your waffles. Waffle Point also serves up
hot beverages, including espresso (8LE) and hot chocolate (12LE). Fruit smoothies
and frappes are also available. But with the delicious waffles they make, it's
very unlikely that we will ever try anything else.
We have no
qualms about admitting her mild addiction to chocolate-laden waffles, as long
as they are followed by an intensive workout session of course! We are
definitely returning to Waffle Point to experiment with the different
combinations of toppings.