Waffles & Shakes: A Simple Homemade Breakfast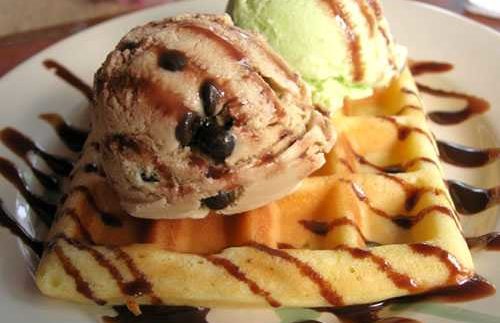 For all the
Maadi residents out there: If you're bored of Lucille's breakfast routine,
which we undoubtedly love, head out to Waffles & Shakes for some homey
waffles of your choice.
Waffles
& Shakes is located right next to Al
Shader on Road 204 in Degla. The venue has a tiny front terrace and has a
cosy feel to it, making it the perfect waffles spot to head to on a lazy Friday
morning. Although the place is quite small and only takes about six people, it
is never completely packed so you'll always find a seat.
Waffles
& Shakes specialises in waffles with toppings that range from pineapple to
sprinkles and whipped cream, and has a variety of fresh and filling fruit
shakes. Prices at Waffles & Shakes are quite cheap, which makes it stand
out in a way. If you're bored of the food at home, don't hesitate to go to
Waffles & Shakes; because their waffles are both delicious and affordable.
Waffles cost
around 20LE depending on the toppings that you choose, and their shakes sell
for around 15LE, also depending on which flavours you choose. They also serve
fresh juice for about 10LE and coffee.
The service
at Waffles & Shakes could be much better, but it's not frustrating. There
are usually two waiters running the service. For coffee, you will not find
sugar packets on the table and will have to ask the waiter to add the sugar
himself. We also asked for water and realised that they don't sell water
bottles. At the time of this review, the shop didn't seem to have its own bathroom,
so you might have to use the bathroom next door at Al Shader.
Waffles &
Shakes' music is very chilled and relaxing, and although the service isn't that
great, the waiters are very friendly. So if you're having a lazy weekend, drop
by Waffles & Shakes and enjoy their homemade treats.