It's not that we are running out of things to say about how glorious it feels to know that in a matter of hours the weekend begins, but this time around we are sparing you the intro, fast-forwarding to what's waiting for you out there in the next few days: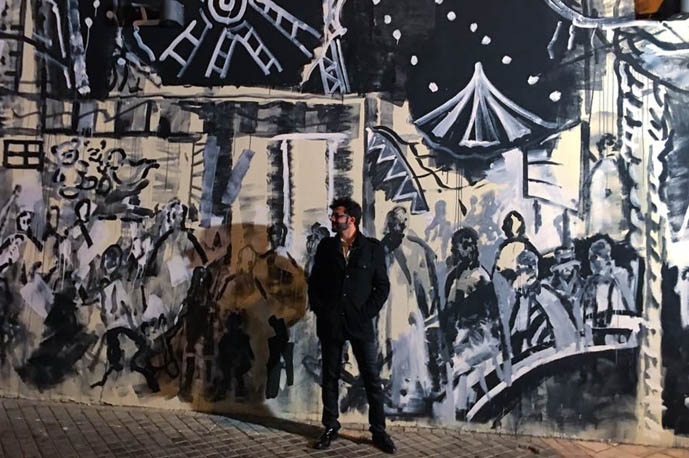 Hany Must is set to sing various originals at El Sawy Culturewheel this Thursday (Photo: Hany Must / Facebook)
Thursday starts with local band Flamenca taking to the stage for a Latin night at Darb 1718, Insjam playing a round of instrumental versions of famous classics at Bedayat, Hany Must singing various originals at El Sawy Culturewheel, while Hawidro and Moroccan artist Sara Moullablad take to the stage for special jazz night at ROOM Art Space.
Speaking of jazz, Cairo Jazz Club's Thursday Night Live sees two local jazz and blues bands taking to the stage, The One Four Five and Amro & The Big Bang Boogie, while The Tap West hosts a rock night, where Screwdriver take to the stage, before DJ A.K hits the decks for a round of hip-hop and R&B tunes.  The same genre is on the menu at Basement – Urban Pub, courtesy of DJ Mobbz, while The Tap Maadi hosts another edition of Cheeseballs, where every cringe-worthy tune is on the play list. Those who are looking for a dance night, then look no further than The Tap East, where DJ Ike takes to decks and Cairo Jazz Club 610, where Hisham Zahran and Aly Goede take over.
Gallery Haifa hosts the screening of Woody Allen's romantic comedy, Manhattan, this Friday (Photo credit: time.com)
As for Friday, Cadre 68 hosts a double screening of La Vie En Rose, which follows the life of legendary French songstress, Edith Piaf, while Gallery Haifa sees the screening of Woody Allen's Manhattan, which tells of a love triangle between a man, a teenage girl and her best friend.  When it comes to music events, local band The Gypsy Jazz Project take to the stage for a round of unique jazzy tunes, while El Hadra take to the stage at El Sawy Culturewheel to sing various spiritual tunes.
Elsewhere, it's a Nirvana tribute night at The Tap Maadi, where local band Seattle take to the stage for a round of classics, while The Tap West hosts a hip-hop and R&B night where DJ Fat Sam hits the decks. There is a couple of house nights too, one at Cairo Jazz Club, where the duo Gawdat take to decks, as well as DJ Arrab, and the other happens to be at The Tap East, courtesy of DJ DeebJR. Meanwhile at 24K, belly dancer Daniela shakes it to the Oriental beats of the resident DJ, while Gu Lounge's Oriental night features Sha'by singer Abdel Baset Hamouda, who will take to the stage along with belly dancer Christina.
This Saturday, Wael El Fashny takes to the stage at El Sawy Culturewheel to sing a variety of Arabic contemporary numbers (Photo: Wael El Fashny / Facebook)
When Saturday comes, Egyptian artist Wael El Fashny heads to El Sawy Culturewheel's stage for a round of Arabic contemporary tunes, local underground band Do'souka hit the stage at ROOM Art Space, while local band El Awela Balady cover various classics by El Sheikh Emam and Sayed Darwish at Bedayat.
Movie lovers can head to Gusour Cultural Centre, where The Prestige is set to be screened; the film follows two competing illusionists, who would give everything away to outwit one another. Alternatively, Danny Malak grabs his guitar and heads to the stage of The Tap East for a round of acoustic tunes, as Hamed El Sayeh does the same thing, but at The Tap Maadi's acoustic night.
That's just the tip of the iceberg, check the Cairo 360 Events page for more things to do and places to go this weekend.