Cairo Weekend Guide: NeoByrd, Massar Egbari, Dokkan & More..

It's not that we are running out of intros to write about how indescribably delightful it is to see a glorious weekend looming on the horizon; it's just that we know you feel the same way. Let's get down to business, and see what Cairo has to offer this weekend. 
Thursday opens with legendary drummer, Yehia Khalil, taking to the stage of Cairo Opera House's Small Hall for a round of Oriental jazz tunes as another Jazz band, The Jazz Trio, hit 3elbt Alwan's stage, all while local alternative rock band, Malaaz, head to the stage at El Sawy Culturewheel's River Hall .
For some, Valentine's Day isn't over yet; while ROOM Art Space nurses the broken hearts of all the single Cairenes out there with a batch of contemporary Arabic songs by Dalia Younis, Magnolia celebrates love with the screening of You've Got Mail and a performance by Sara Alaa, who takes to the stage to sing a variety of love songs on her guitar.
Love aside, it's all about dancing at Nineteen Twenty-five, where DJ Lyon Avakian is taking to the decks, as well as at Cairo Jazz club, where Ritza takes to the decks to serve some electro/surfpop, before Neobyrd take over for a round of funkadelic electro tunes.  
Looking for some rock music? Local band, Massar Egbari, take to the stage of 24K, on a night that also sees DJ Carlos taking to the decks, while local cover band, Glass Onion, take to The Tap East's stage, to cover various classics by The Beatles.  Speaking of The Tap, the other one in Maadi, sees DJ RORO taking to the stage, in another edition of Future Retro.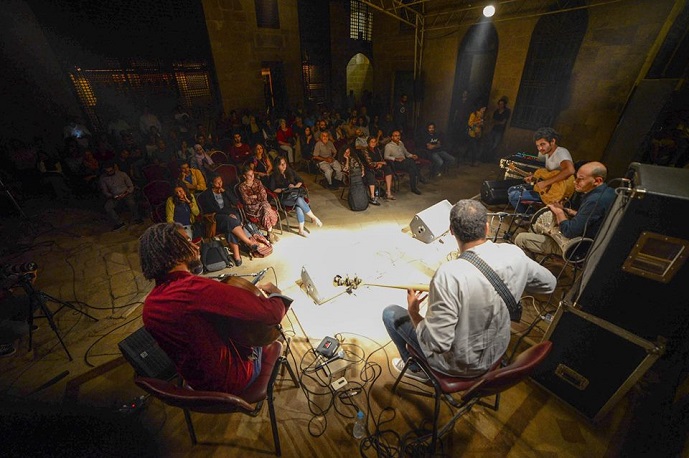 Local band, Dokkan, take to the stage of ROOM Art Space this Friday (Photo: Dokkan / Facebook)
Celebrating the grand opening of its second stage, this Friday ROOM Art Space hosts a special night, where local band, Dokkan, as well as Yousra El Hawary take to the stage, while 3elbt Alwan welcomes The Cadillacs to the stage for a rock and roll night.  As the night gets older, Alexandrian DJ, Ike, takes to the decks of The Tap East, while Cairo Jazz Club welcomes the duo, Aguizi & Fahim to the decks, before Shiha joins the mix.   
As for Saturday, a Flamenco night awaits us at ROOM Art Space, with local band, Flamenca taking to the stage. Hamed El Sayeh takes to the stage of The Tap Maadi for a round of acoustic rock songs and Nakhla, Frogmoose and Kareem Auf take to the decks at The Tap East, while 24K's Soul 2 Soul sees DJ Soul M playing some R & B tunes.
That's not all, check the Cairo360 events calendar for more events on the weekend.