RUSH: Egypt & the Middle East's First Eco-Sports Festival
On April 2nd of this year, Egypt is set to host a one-of-a-kind sports festival – an 'eco' sports festival to be exact. The brains behind it are Dune Raider Sandboarding – an adventure-seeking collective of adrenaline junkies that have played a huge part in bringing the sport of sandboarding to the forefront of Egypt's collective consciousness over the last few years.
The suitably named RUSH is set to welcome droves of like-minded, similarly adventurous Egyptians to Magic Lake Fayoum for three days of adrenaline-inducing sports and activities in an event like no other. With everything from sandboarding, rock-climbing and hiking, to fishing, kayaking and horseback-riding on offer, Dune Sandboarding haven't left anything out.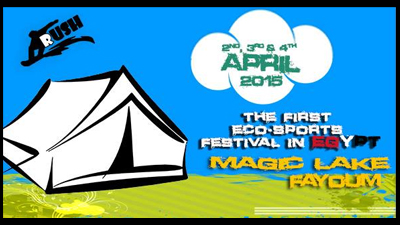 One of the biggest features of the festival, however, is the Dune Rider Sandboarding Word Tour, which is set to hold its first event in Egypt during the festival, bringing some of the best sandboarders in the world along with it. Why is this big deal? It's a big deal because Dune Rider is the world governing body for sandboarding.
"RUSH is a dream," says Dune Raider's Kareem Hossam. "We've always dreamt of Egypt hosting a world-tour championship, but as communities built around a love for outdoor activities have grown, the idea evolved into bringing them all together for an annual festival."
The festival is the product of a lot of work on the part of Hossam and co. "I travelled to USA in the summer of 2014 to take courses on how to host this type of event. I got certificates as an instructor and international judge, which helped me in pursuing the goal of having a world championship event in Egypt."
But for Hossam, it's a labour of love first and foremost. A snow-skiing trip inspired him to share and expand his experiences back in Egypt.
"In 2007, I tried sandboarding for the first time in Egypt. I used a standard metal board that I'd made myself – but it didn't work. It didn't move smoothly and I kept sinking! I eventually managed to fabricate a wooden board in a carpentering workshop and it worked –I was finally able to fly over the sand."
This was the trigger in starting what would eventually come to be Dune Raider. As Hossam's personal friends begun to accompany him on his weekend trips to the dessert, a small Facebook group inviting others to join them on their first organised trip spawned what is now a huge community of enthusiasts.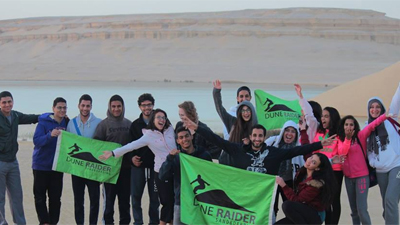 Impressively, Dune Raider has secured full government backing for the festival; something that has lead to the group being anointed the sole representative of sandboarding in the Middle East by world governing authorities. But seven years on from his first official Dune Raider trip, Hossam admits that sandboarding in Egypt still has some way to go.
"Sandboarding is still treated as an activity rather than a sport. But after many months of negotiations, paperwork and bureaucracy, the Ministry of Youth and Sports now officially recognises it as an eco-sport – we're now even in the process of having the first official sandboarding association of Egypt approved," Hossam says proudly.
The progress is remarkable when you consider the fact that sandboarding only really took off in the early nineties. Since then, the global sandboarding community has grown rapidly, with Egypt emerging as an ideal destination.
"There are plenty of suitable locations in Egypt. The nearest one [to Cairo] is Al Qataneya, which is about 70km away. There are also places like Siwa and Wadi El Hetan, which are all remarkable sites in their own rights."
It's easy to assume RUSH, then, as the pinnacle of sandboarding in Egypt. But Hossam refutes that idea, instead considering it just the beginning.
"RUSH is just the first of a series of events that we're planning to take all over Egypt. In 2016, we're hoping to go one step further and take the world tour to both Egypt and Dubai. 2017? Maybe another destination!"
Even as a sandboarding aficionado, Hossam hasn't lost sight of the bigger picture; again, sandboarding is still a very young sport and one of the keys to maintaining its steady growth is to make it accessible to all – something that RUSH is all the better for.
"We want RUSH to be a hub for all eco sports; we want to create a platform for other adventurers to showcase and practice their outdoor passions."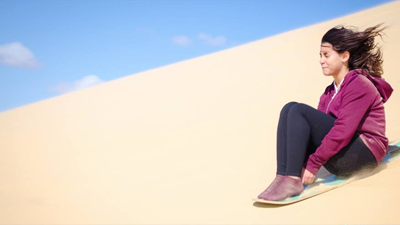 RUSH has already riled up plenty of interest, from both avid outdoorsmen/women and those who dare dip their toes in for the first time. Dune Raider have made a conscious effort to make the festival welcoming and inviting to those without experience – the promise of live music and barbeque feasts, as well as Zumba, yoga, sand-sculpting and pottery classes pay testament to that.
It also pays testament to the enormity of the festival and what a fantastic achievement bringing RUSH to life really is.
For more information on RUSH, click here.