A Thousand Words: Another Eddie Murphy Stinker
Cliff Curtis

Eddie Murphy

...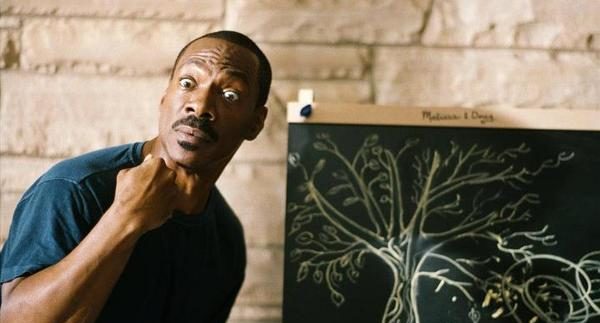 This review can be summed up in one word; why? Why have a bunch of talented
actors, namely Kerry Washington and Allison Janney, get themselves entangled in this mess?
Why did Eddie Murphy think this was a good idea? Why did this calamity not go
straight to DVD? Why is the man behind both this monstrosity and Adam Sandler's
latest train wreck – Jack & Jill
– still writing screenplays?
Murphy plays Jack, a literary agent who, as is completely typical for a
Murphy character, talks a mile a minute, spending half his time talking big and
blathering on about nothing. His disposition makes him the complete opposite of
the client he hopes to sign; a rock star guru with millions of devoted
followers who preaches the economy of speech. Jack's overselling of his
capabilities and over-exaggeration of his devotion to and knowledge of the
guru's teachings causes a special tree to disappear from the guru's ashram and
mosey on over to Jack's backyard. Jack soon comes to realise that for every
word he speaks, a leaf falls off the tree and he gets progressively sicker.
There are a thousand leaves left on the tree, if they all fall off before he
figures out a way to reverse this situation, he dies.
By the midpoint of the film, you're actively hoping that he hurries up
and dies so that the film can be free to focus on Kerry Washington who is
completely underrated. She is, without a doubt, this film's highlight but you
can't help but feel sorry for her that she's starring in such a turd. She plays
Jack's wife Caroline who is having problems with her husband's arrested
development. He thinks a bachelor pad is a suitable environment in which to
raise a child while she strongly disagrees, driving a wedge into their already
fractured relationship. Their relationship takes another downturn when he's
forced to practically stop talking to save his life thus cutting off any
attempts at communication that just may salvage their marriage. Clark Duke, who plays
his spineless, idiotic assistant Aaron, wins the award for being the most
annoying person on screen. Comedy really doesn't seem to be his thing.
The film actually has a decent, if clichéd, concept. But Jack keeps
running around silently freaking out the entire film, then all the emotional
issues that have to be resolved – his relationship with his wife, mother and
deceased dad – are bungled together in the last ten minutes of the film. Those
ten minutes, while kind of hokey, are also the most interesting in the whole film.
The rest of the film is the kind that'll either put you to sleep or have you
cringing over the fact that Murphy, one of the biggest names in comedy, has
been reduced to doing this.