Al Ragol Al Ghamed Besalamto: Same OId from Hani Ramzi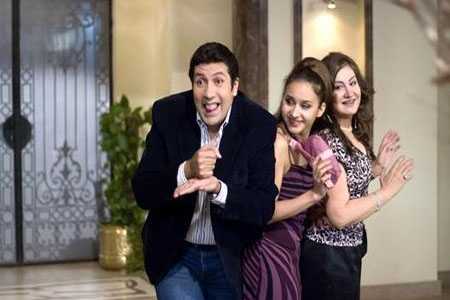 In between
hundreds of randy close-ups of cleavages and cabooses, Al Ragol Al Ghamed Besalamto (The Mysterious Guy, Or So He Thinks)
tells a tale of a man who goes from zero to hero. The zero in this case is
Abdel Rady (Ramzi) a 'young' recent graduate that gets fired from his job
because he still believes in the outdated concept of integrity.
According to Besalamto's gospel, though, what passes for integrity is as
meaningless a gesture as calling French fries freedom fries; meaning that just
because you develop clever terms doesn't change the fact that you're describing the same old thing.
So, what's
new then? Al Ragel Al Ghamed Besalamto
is yet another film that milks sympathy from its viewers by sloppily adapting virtue
as a theme. The catch in this film is the endless ocean that exists between
what it preaches and what it actually presents.
Abdel Rady
(Ramzi) used to work at a dairy company until he discovered corruption in the
upper management, after which he is immediately let go. Through a series of
misunderstandings and seized opportunities, Abdel Rady ends up as the second-in-command at the Minstry of Investment. Then he gets
caught up in the same evil multinational organisation that we see in all Egyptian films.
Abdel Rady
assumes the identity of Riyad, a rich and goofy businessman, and along the way, he
falls in love with the lovable Nelly Karim. Forty minutes later, Abdel Rady now
has to come clean to his love and save the country after he himself depleted
some of its resources by luxuriating in trips to Sharm El Sheikh.
The film
has a very clean and smooth look; with no expenses spared in production. What
really boosted the budget were the fees paid to all the Eastern European women shot
walking around in bikinis.
Unless
carrying an oversized lighter counts as funny, there aren't many laughs to be
found in Al Ragol Al Ghamed Besalamto.
One running joke involves Al Rady's precious book of erotica that accompanies him
in almost all situations, even at the Prime Minister's office, where he ends up
handing it to him instead of a report.
Nelly Karim
is her usual clean-slate self; she's just a plot device moving things forward,
while Ramzi remains within his comfort zone playing the same salt-of-the-earth
type of guy that once brought him acclaim.
People who find Ramzi's presence to
be funny might enjoy this film, but his comedic styling has been the same ever
since his breakthrough two decades ago: act stupefied, shake hands furiously, and be tall.