August: Osage County: Raw Portrayal of Family Dysfunction
Abigail Breslin

Benedict Cumberbatch

...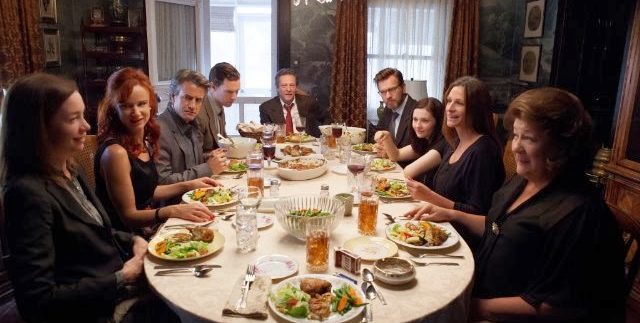 The dynamics of a dysfunctional family has always been an interesting subject for onscreen exploration. August: Osage County is a film based on Tracy Letts deeply profound and terribly moving Pulitzer Prize-winning play of the same name.
Directed by John Wells, the story is set in Osage County in rural Oklahoma with its primary focus resting on the Weston family. Beverly Weston (Shepard) is a poet and a raging alcoholic who is having difficulties caring for his cancer-stricken wife, Violet (Streep), whose battle with mouth-cancer has led her to a pill-popping addiction. One day, Beverly goes missing and the couple's three daughters, Ivy (Nicholson), Karen (Lewis) and Barbara (Roberts), are called to return home to help clear up the mess.
Coming to offer much-needed support are Violet's sister, Mattie Fae (Martindale), her husband, Charles (Cooper) and their son, Little Charles (Cumberbatch), who has secretly been harbouring feelings for Ivy. Barbara's estranged husband, Bill (McGregor), is also there, along with their quiet and withdrawn, fourteen-year old daughter, Jean (Breslin), while Karen is accompanied by her flamboyant and womanizing fiancé, Steve (Mulroney).
The film's strongpoint is, of course, its star-studded cast. Engaging and uncontrollably infectious, Streep, is the beating heart of the story with her portrayal of a self-destructive woman, desperately trying to come to terms with her own mortality. Though it is always hard to match up to Streep's undeniable onscreen presence, Roberts delivers one of her best performances in recent years, and manages to command herself with great dignity and vivacity, while the other peripheral characters are worked into the plot perfectly, with each one playing an integral role in the development of the plot.
Gloomy with a dark comedic undertone, August: Osage County is, in some senses, disturbing and is by no means an easy watch; yet there's something honest and open about the way it approaches the subject of death, loss and deceit. Although many may find it difficult to sit through the anguish and distress, the sincerity behind its motives is refreshing and suprisingly uplifting.