Cats & Dogs: The Revenge of Kitty Galore
Bette Midler

Chris O'Donnell

...

Action & Adventure

Comedy

...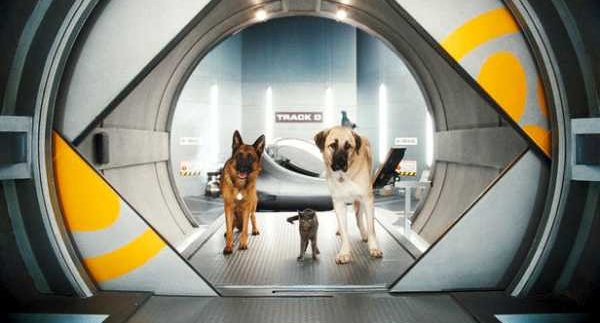 It doesn't
matter if you're a dog lover or a cat lover, Cats and Dogs stinks worse than a litter box. The sequel to the
2001 hit revisits the alleged feline world domination plotline, and this time
around the film is dubbed as The Revenge of
Kitty Galore; one of many futile Bond jokes.
Cats and Dogs is not the kind of bad film to inspire knee-jerking
laughter; its biggest offence is how mind-numbingly bad it is. Jokes are
stale and joyless, drawing from a treasury of tired pet quip. Watching CGI dogs
sniffing each other's butts or a cat sprayed with water in the furball
equivalent of Abu Gharib might work in theory, but not in the context of Kitty Galore.
The new Cats and Dogs film continues the spy-pet
tradition of its prequel. The tormented Kitty Galore (Midler) has grown
disdainful of the entire human race and has plotted her own end-of-world
scheme. It involves turning dogs against their owners by using high frequency
sounds– you know, the usual.
A goofy canine
named Diggs (Marsden) gets recruited by a secret organisation run entirely by
dogs. He joins the ranks in their quest to stop Kitty Galore from executing her
plan. After heading out to investigate the case, they stumble across Catherine
(Applegate), who makes Diggs confront his own cat prejudice and learn to be a
more accepting dog.
Lots of
stars cash in and lend their voices to creepy computer-generated animals, and
poor Chris O'Donnell finds himself on screen playing Diggs's loving owner, spending
most of the film looking for his lost dog and hanging up lost dog posters.
Kids will
enjoy the film; it's flashy and colourful enough to entertain them for 85
minutes. However, adults may find it a little insufferable to sit through this
pet affair. The Revenge Of Kitty Galore
is for people incapable of looking up funny pet videos on YouTube on
their own.