Faster: Single-minded Revenge Fest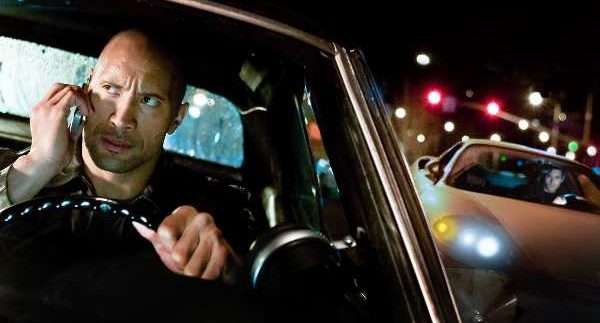 Faster opens with one of the best action set-pieces of 2010. A walking bulk of
a man simply referred to as Driver (Johnson) steps out of a prison to an empty desert, takes a
quick glance around and then runs to a nearby junkyard where he
finds a muscle car waiting for him. Without losing his breath, Driver blasts
off to the city, walks into a corporate office and coldly shoots an accountant.
The first target is now crossed off his revenge list.
The film's fast-paced opening succeeds due to
its narrow and persistent focus, jump starting Faster with raw energy and using minimalistic film-making that
ignores all the details in the peripheral. Fifteen minutes into Faster, and with two of the four targets already off the list, the film starts to
fizzle as the turbo boost of the opening scene slowly wears off.
Driver continues to search for the rest of
the men that killed his brother, while Cop (Thornton) follows his trail to try and stop his bloodthirsty rampage. It's not
as black-and-white as it appears: the more we learn about Driver; the more
justifiable his actions become. As for Cop, his morally ambiguous stance and heroin habit make his motives seem murky to say the least.
The first sign of trouble comes when we're introduced
to an arbitrary villain cleverly named Killer (Jackson-Cohen). He's a mythical
billionaire with an unbridled thirst for impossible challenges; so in turn he
hunts the unstoppable Driver for sport. The concept is rather half-baked and highly
abstract, but Killer seems adequate enough to fill lengthy patches of
downtime left by the main plot.
By the end of the film, Faster abandons its stylised action to tie all the loose and messy plot
threads together. The film betrays its own logic and digresses into heavy-handed
morality to wrap up the story. It all feels like one big fat cheat that would have been less insulting if they had fired up that muscle car engine more
often.