Hotel Transylvania: Amusing but Not Amazing Animated Feature
Adam Sandler

Andy Samberg

...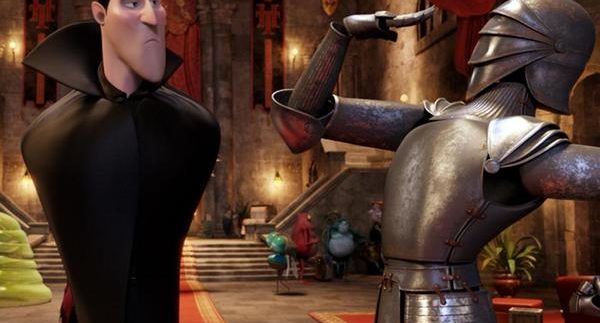 Hotel Transylvania is a directorial feature debut for Genndy Tartakovsky, the mastermind behind animated TV-series classics such as Dexter's Laboratory, the Powerpuff Girls and Samurai Jack. This wacky monster mash-up, given the director's previous experience in the animation department, could have and should have been something special; unfortunately, Hotel Transylvania translates to a mediocre B&B rather than a luxurious haven.
The controlling hotelier and over-protective single father, Count Dracula (voiced by Sandler), is the star of
Hotel Transylvania
. Scornful of humans, Drac has run his castle as a luxury get-away retreat for the misunderstood monsters since the late 19th Century. Desperate to hold on to his daughter Mavis (Gomez), who is about to turn 118 and is longing to get out and 'see the world', Drac pulls out all the stops in order to prevent her doing just that. The world, according to Drac, is not safe for their kind, and only the walls of the hotel can provide safety and refuge from the most feared enemy – the humans.
On the night of Mavis' big birthday, which officially marks her entry into adulthood, Drac invites all of his monster buddies to celebrate. There's Frankenstein (James) and his bride (Drescher); a werewolf named Wayne (Buscemi) with his wife, Wanda (Shannon), along with their immeasurable number of naughty werewolf pups; as well as the Invisible Man (Spade).
Drac's world turns chaotic when an uninvited guest, a backpacker named Jonathan (Samberg), stumbles into the hotel. In order to reassure his guests that his hotel is still a human-free zone, Drac disguises Jonathan and passes him off as Frankestein's cousin. Soon after, Mavis and Jonathan meet and start falling for each other, forcing Drac to face his issues and come to terms with his never-ending discrimination against the human race.
Hotel Transylvania does manage to produce some big laughs and the animation was rock-solid, if not mind-blowing in certain scenes. However, it is just another case of a 3D production that could have just as easily been seen in 2D.
The screenplay, co-written in part by the comedic pros Peter Baynham and Robert Smigel, lives up to its expectations in the first twenty minutes. However, once the fart jokes and crotch shots start rolling in, its 'crash n burn' until the end.
The casting of Samberg as Jonathan is inspired and Buscemi gets his nod as Wayne the werewolf. As for the stars of the film, this was a step up for Sandler who does deliver as Count Dracula – for the most part anyway; and playing the vampire daughter of a controlling father, Gomez held her own pretty much all the way through.
Even though Hotel Transylvania unapologetically aims at tweens and is filled with silly poop jokes, it's not all that bad. Its major success lies in it being neither dreadful nor brilliant, but rather somewhere in between.