Knight and Day: Guns, Cool Shades and a Smile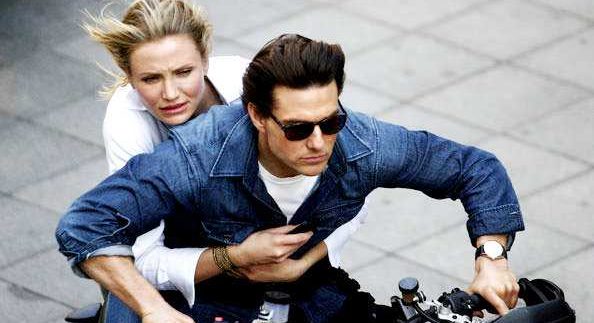 Ever since Tom Cruise came
out all slick and cool at the end of 1983's Risky
Business, he has shown no sign of slowing down. Cruise has had one of the most interesting
and versatile film careers, and it all has to do with his foresight and eye for
quality. At 48-years-old, Cruise had it all figured out; except for one thing: how
to age gracefully.
Knight and Day could have been that good-hearted stab at
the iconic Cruise persona, and it did have
a promising start, but quickly turned into a generic not-so-funny spy film. Roy
Miller (Cruise) ends up on a plane with June (Diaz) and a half-a-dozen spies.
It is the best sequence in film, so we'll spare you the details; but director
Mangold gets some really unusual momentum going during that scene and it works.
Roy falls in love with June and becomes an insufferable action-hero
with
the charm of a stoker. He drags (and drugs) his only reluctant admirer
around for
no good reason other than to show her his secret tropical island later
on. The
espionage plotline then becomes confusing: the government is chasing
him; a
Spanish weapons dealer is also on his tail– who's bad? Who's good? There
is no
clear-cut answer and Roy
is completely disinterested in an explanation or all the bullets that
fly by
his sunglasses.
The film was funny, gripping
and fresh, but the minute we step out of the plan; Knight
and Day
slowly starts to lose steam. The film seems
to have a change of heart early on about its direction and style. It has the
budget, the CGI, and the bankable lead; so it decides to take the route of an
action blockbuster instead.
Mangold (3:10 to Yuma ,
Walk the Line) is an inspired choice of a director for such a film. He's
good at characterisation and capturing subtle undercurrents of danger, some of
which make it into Knight and Day; but the film ends up as
one of his less impressive efforts. Both Cruise and
Diaz bring sturdy performances that
rely on their fading charms. There is a sense of pretence about both
leads; with Cruise hiding behind his sunglasses and Diaz behind her cheerleader
enthusiasm.
With
few laughs and thrills, Knight and Day
falls a little short of entertaining the audience. It's not going to revive the
careers of either of the leads , but it
won't end them, either. Lacking heart and soul, it's hard to react to Knight and Day with
anything other than complete and utter indifference. It's a good 90-minute
action-comedy, but it could have been better if it hadn't abandoned the comedy
in favour of CGI bulls.