Mohtaram Ela Robaa: Fire in the Hole
Lamitta Frangieh

Mohammed Ragab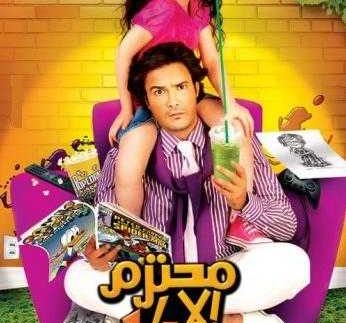 ­Like Jerry Bruckheimer, producer
Sobky is a maverick auteur who has figured out the secret formula to
box office success. Sobky's recipe is deceptively simple, one which
has been imitated but never duplicated. First, you need a working
class wedding, one where there is a chunky belly dancer and songs
oozing with crass lyrics. Second, a Lebanese knock out or a an aging
belly dancer to carry the films sexual charge. Next you need a child
companion to the film's morally contradicting protagonist; and
last, but definitely not least, you need a corrupt politician, one
who is also a business man with an ominous presence to act as an
unconquerable antagonist.
Mohtaram Ela Robaa (Almost
Decent) is an interchangeable film where debauchery and family
values happily co-exist in a world filled with kitsch; it
makes a case for having one's cake and eating it too. Hisham
(Ragab) is a true Lothario who's ability to charm beautiful women
is only outdone by his knack for outdated zingers. He's an
uncompromising political cartoonist still fighting the good fight
against corruption, but his scathing drawings get him into
more trouble than he bargained from, leading him to indict documents
to a parliament member (Rateb).
Hisham's dignity suffers a great deal
at the hands of the parliament member. He loses his job, his
reputation, and his latest fling (Lamitta) . He comes out a broken
man who has lost all faith in his beliefs, and then jumps to another
extreme, shaving his stubby beard and emerging as a reformed fellow
who doesn't play by the rules.
Unlike previous Sobky affairs that
settle for austerity, the problem with Mohtaram is its
above-average aspirations that push it to uncomfortable extremes.
There is one car crash scene where the film shows surprising
competence, but then loses it all too quickly.
Mohtaram Ela Robaa carries
itself as a comedy first and a misguided social commentary second;
but the comedy never really takes off. Mohtaram crams
all its ideas one after one another in a mood swinging frenzy that
will give whiplash to even those with the lowest
expectations.