The A-Team: Summer's Pre-emptive Strike
Bradley Cooper, Liam Neeson, Quinton Jackson, Sharlto Copley, Jessica Biel, Patrick Wilson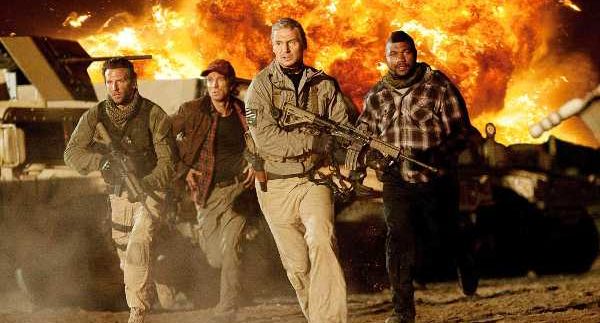 Another 80s nostalgia property finally makes it to the
big screen, but unlike last year's G.I.
Joe, The A-Team benefits from a team that bears no shame of the legacy that
they're trying to revive. Aided by some of the most vehement actors at work
today, The A-Team keeps hurling one
action set-piece after another, unwilling to stop and catch its breath; this
means it might run aimlessly at times.
Even if you've never heard of the TV show that the
film is based on, there is an overwhelming sense of familiarity about the set
up. Captain Hannibal (Neeson) commands a team of suicidal military marvels
through the most grinding military ops to serve their country. The alpha team is composed of lady-killer
Face (Cooper), the human hulk B.A. Baracus (Jackson), aka Mr T, and lunatic
Murdock (Copley). Captain Hannibal chews on his cigar and schemes frantic plans
to both get the job done and give the team an adrenaline fix.
Set up and double-crossed, the team find themselves dishonoured
and locked in separate jails. However, no cell can contain their larger-than-life
vigour; so they break out and set about clearing their name– the stuff that Chuck
Norris' dreams are made of.
The thing about Neeson is, well, he is Liam Neeson.
Whether he's playing American, German, Medieval English, or a Jedi Master, his Neeson
quality always prevails. Watching him roaring while chewing on a fat cigar in
his mouth is deliciously hammy and infectious. It's always fun when a versatile
actor leaves his thespian baggage behind and camps it up with conviction.
Copley's big turn after his pitch-perfect performance in District 9 is an inspired choice, while Rampage and Cooper
compliment the other team players. Put another way, The A-Team gets an A+ for casting.
Director Carnahan uses some jumpy narrative devices in
this lowbrow feast to keep things interesting and unpredictable, yet near the
end this flash-back-and-forth-in-time grows weary and predictable itself. To
Carnahan's credit, though, the film feels both comfortably familiar and fresh
at the same time.
Between running away from overtly synthetic combat
aircraft and dodging bullets, The A-Team
is a satisfying action flick where villains give our heroes speeches and thus
time before shooting them. It's a tad above-dismissible and full of explosive fun.
While you don't have to check your brain at the door, don't ask for much
either.