The Chef: Deliciously Light-Hearted French Comedy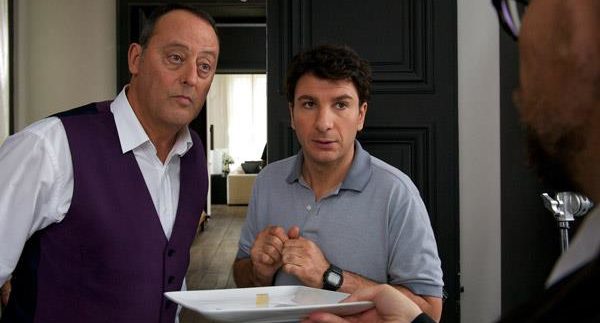 Every now and then, it's refreshing to put your feet up to a film that isn't too demanding, complex or fussy. Some witty, sweet nothingness is always welcome after a hard week's work, and this is exactly what you're in for with The Chef.
French director Daniel Cohen brings us a story of two chefs: Jacky (Youn), an outspoken self-trained chef who, thanks to his high standards, cannot hold onto a job; and the culinary wiz, Alexander Lagarde (Reno), who is in danger of losing a Michelin star to his already three-star awarded restaurant.
After losing yet another job, Jacky makes a promise to his very pregnant girlfriend, Beatrice (Agogue), that he will quit the fruitless dream-chasing and take on a painting job at a nearby retirement home. Meanwhile, Lagarde, who is now at risk of losing his restaurant altogether, goes on a desperate search for a new assistant chef in vain hope to revitalise his new 'Spring Menu' and save the restaurant. After a chance meeting at the retirement home, Lagarde takes a risk and hires Jacky who just so happens to be his number one fan.
Known to be set in his way in terms of traditional cooking and fine-dining, Lagarde finds it difficult to keep up with his vigorous assistant, who has undeniable cooking talent and knows more about Lagarde's food than Lagarde himself. One of the main prerequisites imposed to saving his restaurant, is learning more about the new trend of molecular gastronomy. Lagarde finds this a challenge and this sets off lots of loud and funny verbal exchanges between the two, along with an endless parade of mouth-watering French dishes.
The Chef
is far from a 'tour de force'; it's a subtle take on the French and their cooking, holding enough charm and comedy to satisfy any type of audience. The casting of both chefs is brilliant. The sturdy looking Reno is a perfect match for the role of Lagarde; a renowned French chef who takes great pride in his food. Jacky, played by French comedian Michael Youn
–
who is very popular in France for his radio prank-calling shows
–
manages to wear the chef's suit with a hint of arrogance and extreme likability. The two bounce off each other and for most part behave like a couple of teenagers.
The story does reach a ridiculous moment about an hour into the film, where the pair are dressed as a Japanese couple out to investigate and spy on a rival restaurant. This particularly wacky scene could have been a total blow to the film, if it had continued down that road. However, Cohen manages to level it out pretty quickly, putting the viewers back on track again.