The Ghost Writer: A Political Mystery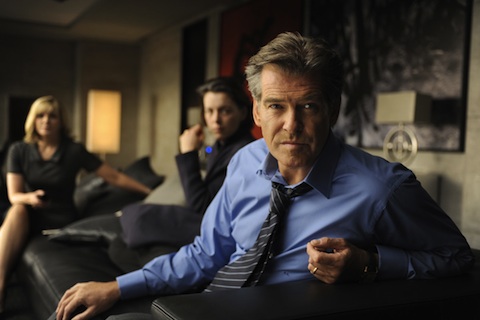 Roman Polanski's
well-publicised arrest happened right after he finished shooting The Ghost Writer. He then finished
editing the film from prison in Switzerland. Seeing how The Ghost Writer deals mainly with isolation, international exile and
questionable morality; all these themes seem particularly resonant to his real
life and make the film a little more poignant. However, all that baggage would
have meant nothing if The Ghost Writer
wasn't already a suspenseful and masterfully crafted political drama that
plays to Polanski's biggest strengths as a director.
The Ghost Writer plays more like a traditional murder mystery
that coincidentally takes place in the backdrop of the political world. An
unnamed writer (McGregor) is hired to write the memoirs of former British Prime Minister
(Brosnan). He thinks it's the opportunity of a lifetime but then discovers that
his predecessor died in an apparent accident under very suspicious
circumstances.
The unnamed
writer flies out to meet with the prime minister on a secluded island in the
USA. Just as he begins his new assignment, news breaks that the prime minister is
involved in a terrorist torture scandal that violates international laws. The world is in uproar over the news and
collectively condemns the ex-prime minister, demanding that he be brought to
justice. On the island, the writer discovers his predecessor's notes and finds condemning
evidence against the politician.
The film is
thoroughly seen through the eyes of McGregor, who brings a brisk urgency to his
role; he's more of a seasoned private deductive than a writer, peeling layer after
layer off of the scandalous story. Brosnan is only seen sparingly, but keeps an
emotional distance during most of his interactions with McGregor, surrounding his
character with a sinister air that is enough to suggest a lack empathy, but not
to confirm it. His wife (Williams) offers a interesting spin on the traditional
femme fatale role.
Polanski
treats the material by using film-noir elements. It's too slick and stylised to
be taken seriously as a dramatisation of the political scene; but as a mystery,
it's one hell of a thrill ride.
As
entertaining and enthralling The Ghost
Writer is, it's also too calculated and stiff in a way that removes any joy
derived from its central mystery. And while it's not predictable, there aren't
any surprises or chances taken technically or otherwise. What the film offers
is a solid two hours of well-crafted, acted and executed piece of cinema that could have
been more.