The Next Three Days: One Man Against all Odds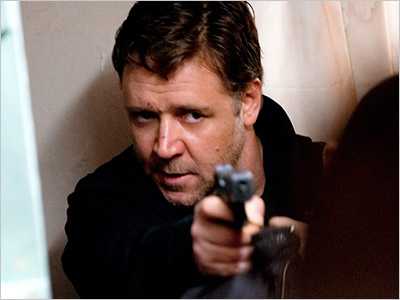 The
Next Three Days is a gripping prison-break film that could
have been a great one. We respect that director Paul Haggis (Crash) was trying to make a
tight action-thriller film with the same gravity as that of his political and
racial dramas. Unfortunately, he doesn't succeed; and the film suffers for it.
John (Crowe)
and Lara (Banks) Brennan are a happily married couple with a
young son, who wake up to have breakfast on a seemingly normal day, only to
find dozens of policemen breaking into their apartment to arrest Lara for first-degree
murder. We don't know much about the murder, and the film doesn't waste any
time on the back story. What is known is that John believes in his wife's
innocence beyond any shred of doubt; even when all the evidence is stacked
against her.
Just as he did in the award-winning Crash, Haggis prefers to capture his
leads during moments of reflection and solace instead of having them voice
their internal monologues. A lot is left unsaid in this film and communicated instead through gestures and longing looks, all of which become tiresome as the film advances. However,
midway through the film, all the simmering tension finally rises to the surface
and reaches a tipping point.
John plans an elaborate escape for his wife.
It's not exactly airtight; but for a community college professor like himself,
it's a miracle that he was able to conjure up such a scheme; let alone attempt
to carry through with it. The Next Three
Days delivers thrilling escape sequences: when Crowe and Banks start executing
their plan, they are barely half a step away before the cops are on their tail.
By following John through his learning process
and watching his progress, the film lets go of all the heavy pretences and
fully embraces the genre's elements. Haggis captures these moments deftly with a
patient eye.
Crowe gives the role his usual sombre touch without any humour. He shows
more vulnerability than in recent roles, but his unrelenting conviction and
lack of self-doubt make him seem more of a cold machine than a loving husband. Banks gives a more pronounced dramatic turn, showing serious dramatic chops
never before seen during her funny girl career.