Think Like a Man: Fun, Cliché-Ridden Rom-Com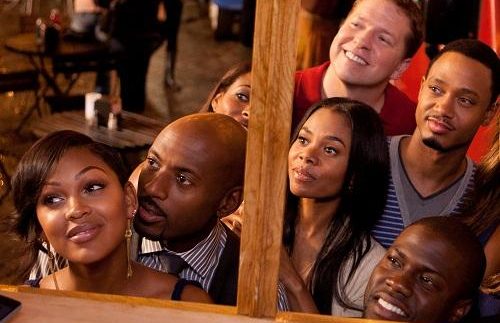 Candace
(Hall) is a single mum who doesn't want an endless string of men parading
through her son's life yet can never seem to get a man to stick around. Her
best friend Lauren (Henson) is a high powered executive who has trouble finding
men who live up to her standards and who aren't intimidated by her success. Mya
(Good) is incapable of finding a man who's interested in a long term
relationship. All the ones she does find only want to bed her then dash.
Kristen (Union) has been with her guy Jeremy (Ferrara) for nine years. He's an
overgrown man-child who refuses to get a proper job.
Fed
up with their romantic options, the women all read Steve Harvey's terribly
titled Act Like A Lady, Think Like A Man and opt to take its advice.
Candace tries to get Jeremy to grow up while the other women, who are all
incidentally dating Jeremy's friends, test out the book on their new men – each
of whom is a very specific brand of un-dateable. Jeremy and his friends –
Cedric (Hart) who is going through a divorce; Dominic (Ealy), a talented chef
stuck at the bottom of the food chain; Michael (Jenkins), a mama's boy; and
Zeke (Malco), a player – discover that the women have all been following the
book's advice and decide to read it for themselves to beat the women at their
own game.
True
to the title, the film relies on ridiculously overplayed, sexist stereotypes.
Men are slobs who are only after sex while women dream of their Prince
Charming, women's standards are too high except when they're too low, women
have the power in relationships because they have vaginas, men won't get
married unless the women force them into it, and so on. These clichés are so
tired, they're not even worth getting worked up over but it is really sad
watching every single woman in the film hanging on to the book's every word and
referring to the author on a first name basis, as if he were their best friend.
On top of this, the film has two inexcusable faults: the first is that it plays
domestic violence for laughs. Not cool, even when it's the guy getting beaten.
The second is giving Chris Brown a job.
His
cameo only increases his already sky-high arsehole profile. Of course, his
character is actually supposed to be detestable so it was technically a great
piece of casting – minimal acting required! Other than him, the film was pretty
well cast, though not brilliantly acted. At the very least though, they're all
gorgeous and very likeable so that balances things out a bit and makes the film
more watchable. Even so, each romance in the film is a cliché making it
difficult to empathize with any of the characters. Having said that, while Ealy
and Good aren't a couple, they're the film's highlights though Jenkins and
Hall, who are one, come a close second.
Think Like A Man doesn't work
particularly well as either a romance or a comedy, in fact, it couldn't even be
an ad. After this and What To Expect When
You're Expecting, let's just hope the next step doesn't involve adapting a
diet book.