This Means War: Rom-Com with Heavyweight Cast, Lightweight Plot
Chris Pine

Reese Witherspoon

...

Action & Adventure

Comedy

...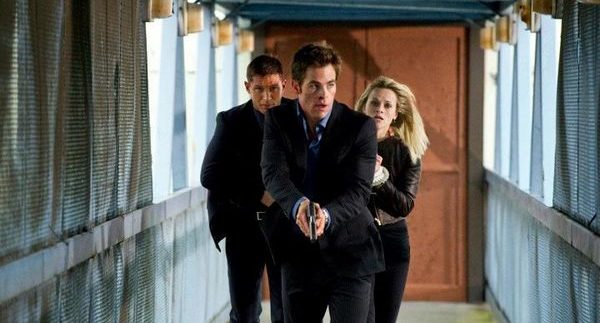 Tuck (Hardy) and FDR (Pine) are best buddies and CIA field agents. When
an assignment goes wrong and they end up with a deranged mobster on their
backs, they're relegated to desk jobs. Their newfound spare time
allows them to focus on non-violent pursuits such as online dating where Tuck
meets Lauren (Witherspoon). They go out, sparks fly and everything goes
swimmingly well but no, wait; Lauren runs into FDR – who is unaware of her
connection to Tuck – and he falls for her pithy ways. Soon enough FDR and Tuck
realize that they're dating the same woman and instead of confronting
her, they decide to stay silent and let her pick the best man. They use their
CIA trickery to find out everything about Lauren; they spy on her and
subsequently sabotage each other's dates with her. Lauren falls hard for both of them
and the boys' relationship gets more and more strained when the mobster – whose
pursuit forced them into their desk jobs – turns up, kidnaps Lauren and blows
Tuck and FDR's cover. Now that everything's out in the open, who will she choose?
The film gets by purely on the cast's considerable charm, though when you have stars this
big attached to a project you'd expect a film that works on more levels than just an
acting one. The reliably lovable Witherspoon is an inspired choice for a two-timer.
While her actions are pretty reprehensible, there's no way you could ever hate her. Pine plays a commitment-phobic womaniser
who learns to love while Hardy plays his polar opposite; a serial monogamist
yearning for the one. Again, casting such charming leads allows you to temporarily
overlook the fact that their stalking ways make both of them creeps of the
highest order. They make Edward Cullen watching Bella Swan while she sleeps
seem sweet in comparison. The most heartbreaking thing about the film though,
is how Lauren almost wrecks FDR and Tuck's beautiful relationship, which on an adorableness
scale of one to ten, easily scores an eleven. Seriously, it's cuter than the actual romances. And while the leads have some pretty
funny lines and land in comical situations, Handler, who plays Lauren's best friend, delivers some obviously adlibbed jokes that are quite
hilarious.
Plot wise, the film is quite shaky. The mobster whom they piss off so
thoroughly is completely peripheral to the film and is treated as such – only
showing up at the very beginning and very end of the movie. He's shoehorned in as a way of getting the three leads together in the same
place at the same time; no more, no less. As a result, with the complete lack
of a villain, the film doesn't work too well on an action level; it's more of a romance with guns than an action film with a romance. But
then again, the romance is done pretty sloppily and far too predictably for
that.