Unstoppable: An Exhilarating Thrill Ride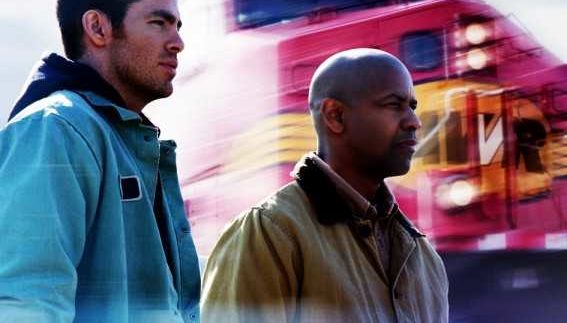 Based
on a true story (with many liberties taken in the film version), Unstoppable turns an ordinary, unexciting
train into a true object of menace. Director Tony Scott (Man on Fire) serves the material best by sticking to a tight 90
minutes full of suspense and intricate action. With an enduring rookie and
old-time duo at the centre of the film, Unstoppable
is a throwback to bare-bones action flicks; it pumps you up with adrenaline until the end.
The
film opens with Will (Pine) on his first day of working
for a railroad company as a train conductor. He receives a
lukewarm welcome from Frank (Washington), his assigned engineer,
as rumours claim that Will's blood ties with a company executive got him his
job. However, as the two spend time confined in the small control cab of a train; they eventually warm up to
each other.
Meanwhile, trouble is brewing as an unmanned train is on the loose, spewing and dragging a half-mile of explosives
and dangerous chemicals behind it. The control room administrator (Dawson) illustrates the danger by calling the train 'a missile the size of the Chrysler
Building.' Fortunately, Will and Frank find themselves in a position where they can catch the
runaway train and stop it before it enters the populated neighbourhoods of Pennsylvania.
Washington's incomparable onscreen presence gives the film a
robust boost, and the everyman chemistry between him and Pine forms a powerful
emotional connection that carries the action sequences. A perfect balance of
popcorn dynamics and human interplay permeate every frame of Unstoppable; leaving not a dull moment in between.
Unstoppable works largely due to its commitment to
formula. Instead of reworking the genre tropes or tiptoeing around them, the
film fully embraces its blockbuster cairorevamp_users to deliver a stylish, heart-pounding action film. This is an unaffected and triumphant return for Tony Scott after a string of disappointing, albeit ambitious films. Hold
tight; because once the film starts moving, it won't slow down.