Walking With Dinosaurs 3D: Animation Falls Wrong Side of Edutainment
John Leguizamo

Justin Long

...

Barry Cook

Neil Nightingale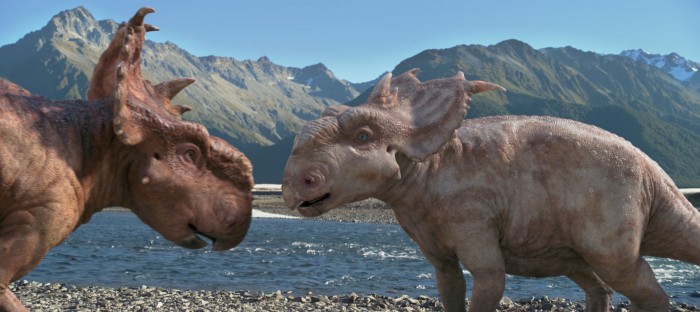 Based on the popular award-winning BBC documentary mini-series of the same name, Walking with Dinosaurs is the first animated feature film to emerge from what was a highly acclaimed show.
The film begins with palaeontologist, Zack (Urban), who decides to travel into the Alaskan wilderness in search of the long-lost dinosaur fossils, along with his cynical teenage nephew, Ricky (Rowe) and his high-spirited niece, Jade (Rice). Once there, Ricky refuses to join in on the fun, and Zack and Jade wander off without him. Soon, Ricky is confronted by a bird named Alex (Leguizamo), whose story of courage and survival soon transports the film back in time to the Late Cretaceous era.
We soon meet Patchi (Long) – the smallest amongst his fellow Pachyrhinosauruses – who is forever in battle with his much tougher and older brother, Scowler (Stone). During migration, and the long haul across the Alaskan wilderness, the herd runs into path of the Gorgosaureses; after losing both of their parents, Scowler takes over as the leader of the pack. To further Patchi's anguish, Scowler soon takes Juniper (Sircar) as his bride; a female dinosaur from the neighbouring herd with whom Patchi has been in love with for as long as he can remember.
Placed at the back of the herd and living under his brother's egotistical rule, can Patchi come into his own, take over the herd and win back the love of his life?
Directed by Barry Cook and Neil Nightingale, Walking with Dinosaurs, is a very 'chatty' animated feature; from the voice-over narrative to the rambling coming from the dinosaurs that never seem to open their mouths, the picture is filled with an abundance of oddities and distractions.
As the self-doubting Patchi, Long tries to infuse a lovable quality to his part, however, neither him nor Stone, as his older and reckless brother, are able to ignite any notable personality. Leguiziamo is equally as flat, although his excitable narration keeps you awake.
Finding itself in the abyss that is edutainment, Walking with Dinosaurs' 3D animation and the clever use of CGI is possibly the film's strongest aspect. Unfortunately, it's a little too cartoonish and reliant on adolescent humour does the original TV series a great dishonour.