10: Natural Facials & Quirky Manicures in Zamalek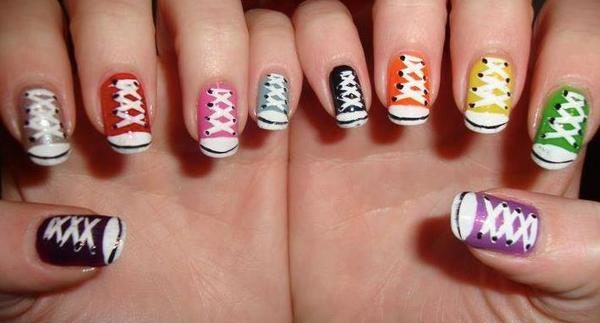 Egyptians love beautifying. If there is one pastime that a
revolution cannot come in the way of, it is their need to have polished nails
and perfect eyebrows. The newest addition to Cairo's beauty scene is 10 in
Zamalek.
Located on Michelle Lutfallah Street, just a few steps from
the Marriot, 10 stands out amongst the pale coloured buildings with its bright
exterior highlighted with neon pink and green borders. Described as a 'beauty
playground', its services spread wider than just the simple mani, pedi, eyebrow
routine. 10 offers natural facials, makeup sessions and most
interestingly: tattoos.
An über–modern
interior pops bright colours against otherwise white walls and furnishing. The
shop is split up into a pedicure spot by the outer window, manicure stations, a
makeup chair and an inner room designated to facials and tattoos.
Their manicures are a cut above the average salon; a regular
one will cost you 40LE, while a pedicure is 60LE. They also offer acrylic nails
for 350LE and gellish for 120LE. But if you're looking for something a little
more exciting than the regular treatments, try out their nail art (40LE).
Leopard prints and psychedelic mixes of colour are always an option, or go for
an avant-garde French manicure with black nail polish and gold tips.
Their facials are different because they mostly use all
natural ingredients. The creams and concoctions they apply are made in-house;
buying the different components from abroad or from local markets, they are
carefully mixed together for the best results. The treatment costs between
150LE and 200LE and includes mud masks, a sugar lemon scrub for oily skin, a
honey and sugar scrub, peel off mint masks, strawberry masks, oat scrub and
yoghurt, honey and avocado masks.
Going into the private room, an extra light and somewhat
low-impact mask was recommended because of its mild qualities against sensitive
skin. Working with gloves, the process went through a series of creams being
taken on and off, as with most facials. Usually prepared to come out with a
bright red, irritated face, the session proved to be very delicate and left no
trace. This is something we greatly appreciated because it is not often you come
across someone who truly understands the concept of sensitive skin and how to
treat it.
Although we did not opt for a tattoo, the service is already
underway with several clients heading over there to get inked. Their price
starts at 100$, where a medium sized tattoo will cost about 600LE. A makeup session comes in two forms: the regular one that costs
350LE and the artistic one that is 450LE.
At the time of our visit 10 still had some last minute
preparations, seeing as they had just opened the evening before. But the
atmosphere is young and fresh, the services are new and unavailable anywhere
else, so for these reasons 10 is definitely on our list of stops on the road to
beautification.