360 El Gouna- Beach & Pool: El Gouna's Newest Pool Lounge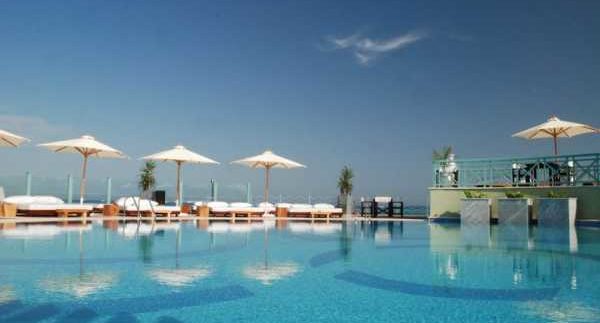 If you were in
Gouna during the recent Eid El Adha holiday, you may have heard about the
opening of 360 El Gouna-Beach and Pool, a chic new lounge and pool in Abu Tig
Marina.
Since the Marina area is quite
small, all you need to do to reach the lounge is walk north towards Moods, and
keep walking along the beach until you pass the gym on your left. 360 El Gouna
will be a few steps away on your right.
Protruding from
the shore on a large circular disc, the lounge's barely-there blue fence won't obstruct your view of the beautiful Red Sea
or the surrounding golden beach. Large, comfortable and white sun beds are arranged
around the pool, providing excellent views with mattresses that can easily fit
three people; or four if you don't mind squashing together. Each bed comes with
two large pillows and two Heineken towels, as well as a large canvas umbrella
for shade.
For a better
view, there's a higher level on the seaside section of the lounge that is separated by
wooden steps, and has a few beds and tables for more exclusive lounging. The
restrooms are located below the pool and did not have showers or changing rooms at the time of this reviewer's visit;
so be prepared.
Open from 8AM to
6PM, 360 El Gouna imposes a 100LE entrance fee; unless you arrive after 4:30PM,
after which you can waltz in and enjoy the fading sunlight till closing time at
6PM.
The prime
attraction of 360 El Gouna is its gloriously large pool: it's shallow enough
for you to paddle in or to stand in in front of the pool-level bar, and expansive
enough for you to swim as far away from your fellow noisy patrons as possible.
360 El Gouna
seems to be direct and worthy competition for the veteran favourite Club House,
following the exact same format: pool, lounge chairs, finger food, bar, beach
and DJ music.
The music
selection is in good hands; this makes sense considering the venue is said to be owned by the same people that run Ministry of Sound and Hed Kandi in
Hurghada, which explains why many of the waiters wear Ministry of Sound
t-shirts.
Managed by Papa's
Island staff, the venue's food menu is rather
limited and not out-of-this-world impressive: the calamari with French fries (65LE) was filling and tasty, but the
caprese and tomatoes panini (40LE) was dry and too tough to chew on.
The drinks menu
is much more expansive, with mocktails, cocktails, wines, champagne and coffees
listed. The 360 smash cocktail (60LE) mixes vodka, lemon juice, fresh mint,
peach, fresh mango, Lipton ice tea and sugar syrup; making a pleasant and cool
drink. On the other hand, the pina colada (60LE) came poorly mixed and was
oddly served in a martini glass. Local beers like Sakkara
cost 25LE, while fresh juice and sodas cost 15LE.
At the time of our
visit, 360 El Gouna's service was definitely not at its best: although the
venue employs several European hostesses and an immense number of waiters and
barmen, we always had to wave someone down several times for our orders, which
had to be placed twice and took far too long to arrive.
All this may have been
due to opening week jitters, and we only hope for good things to come for 360
El Gouna, especially since this venue promises an alternative destination in El
Gouna for sunbathing, cold drinks and good music.