Balance Gym: Well-Equipped Men's Only Gym in New Cairo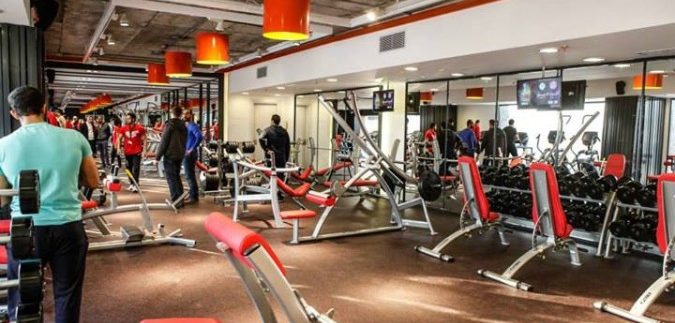 Gyms in Cairo tend to be either mixed, or ladies-only; very rarely do we come across men's only fitness establishments in the city. Under the same ownership as popular women's only chain, Hers, Balance Gym caters for men, and only men.
Right next door to Hers' New Cairo branch, Balance is also on the upper level of restaurant complex, Emerald Empire. With full-length windows stretching across the front, the gym benefits from a great people-watching view, as well as being visible from afar.
The roomy reception area is filled with energetic, welcoming staff, as well as an incredibly well-stocked display of protein, vitamins, energy boosters and fat burners for both men and women. Just inside, a snack bar is notably hosted by the cafe franchise, Chez Edy.
The long, open-plan workout space is lined with full length mirrors on one side to add a spacious feel. Furthermore, the industrial, exposed pipes on the ceiling and the contemporary grey hues, coupled with orange-red accents throughout make for a surprisingly masculine aesthetic.
Top-of-the-range equipment is neatly organised into cardio and strength sections, with a well stocked and kept free-weights section for some serious iron-pumping. Due to the gym's popularity, peak times may feel a little cramped and the distinct smell of 'man' becomes increasingly noticeable. There is also a glass-walled room dedicated to spinning classes, as well as a separate studio for a range of fitness classes.
At the far end of the gym, the locker rooms are spacious and well kept, with a relaxing spa area complete with a Jacuzzi, steam room and sauna.
For such decent fitness and relaxation facilities, we were surprised to find the membership prices so reasonable. At the time of our visit, a running promotion discounted a year membership to 2200LE from 3000LE. Included in this price are a whopping 24 personal training sessions, 12 guest invitations, two months, optional, freezing and six follow-up sessions. A six month membership is 1800LE, including 12 personal training sessions, six invitations, one month freezing and three follow-up sessions. The shortest membership, 3 months, includes six personal training sessions, three invitations, seven days freezing and two follow-up sessions. Special discounts are also offered to married couples, where the woman is joining Hers.
With such attractive prices, Balance Gym is likely to increase in popularity – and rightly so – but may quickly become over populated. As it stands, this men's only fitness man-cave provides body-conscious men with well-stocked work-out areas, complete with top-of-the range equipment at affordable prices.