Chez Richard: Stylish Salon with Shabby Service in Mohandiseen
17 El Gazaer St. (off Aswan Square)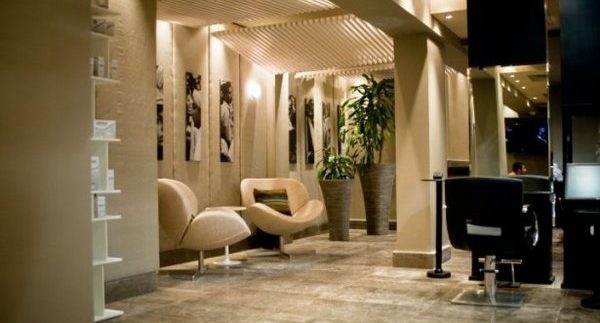 Cairo's
winter seems to be getting worse by the day and has most of us clung to our
heaters or underneath a warm duvet. It's easy to neglect yourself a bit in the winter,
but you need your beauty treatments now more than ever. The cold air is a
killer for hair, skin and nails. Chez Richard is a beauty salon located in
Mohandiseen nearby Coffee Bean and Tea Leaf and Gouthé. The exterior of the
venue resembles a Roman temple gone wrong.
Chez
Richard is pretty big inside with a huge hair salon in the front and a big
manicure and pedicure room in the back. The interior is light and bright, and
thankfully the Roman temple theme is nowhere to be found inside. We took place
on the comfy couch for a manicure and pedicure, and sat with our feet in lukewarm
water while having our manicure. The girl who helped us was very nice; however
manicures were definitely not her specialty. After the usual clipping and
filing she started to apply the French manicure as requested. Unfortunately,
she started over several times because she wasn't always able to get the line
straight. In the end our manicure took very long and our nails still looked a
bit amateurish. Because it took so long to finish, the water in
the pedicure bath became cold in the meantime and we had to request new water.
The
pedicure was considerably better and involved thorough scrubbing and scraping. Unlike
our hands, the French manicure on our feet did look good. We paid 45LE for the
manicure and 55LE for the pedicure.While paying we requested a copy of the receipt and were rudely told that we were not allowed to take the receipt with us
and that receipts are only for the shop and not for customers. Not only is this
rude, but it's also against the law.
Based on
this reviewer's experience with a manicure and pedicure alone, Chez Richard falls
well short of some of the better beauty salons that can be found around Cairo.
We can excuse a bad day – everyone has them – but the staff that dealt with us
directly during our visit failed on the most basic levels. At one point, we
were abandoned in the room for such a long time that we thought the staff might
have packed up and left for the night.