Dar El Maghreb: Authentic Moroccan Hammam in Mohandiseen
16 Salah El Din Mostafa St.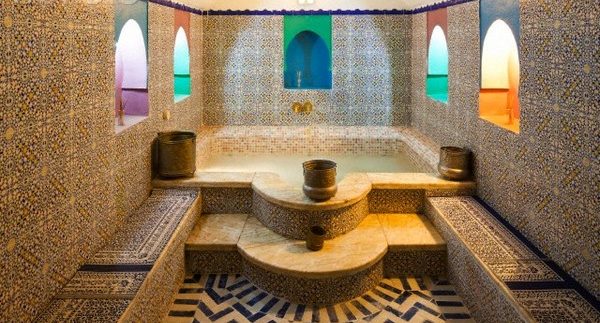 There is absolutely nothing like the feeling of being
freshly showered; clean and renewed, catching whiffs of shampoo and soap, even
the occasional bout of body lotion that smells like being on a beach; sipping
on coconut juice. Yes, as you can tell the yearning for summer is undeniable,
and that's why going for a Moroccan bath is all the more tempting.
Although there are several establishments that offer this
treatment, few carry out the typical Moroccan body scrubbing method
sufficiently. Dar El Maghreb, just behind El Batal Ahmed Street in Mohandiseen,
offers an authentic experience – in all its delights and rawness.
Located on the ground floor of an ordinary residential
building, the heavy, iron-laden door is your hour gateway to Morocco. The place itself is humble to say the least.
Here you won't find glossy counter tops and sleek furnishing but rather wrought
iron décor and a loud television in the background. The ladies that work there
roam around busy with something to do; conversing in a dialect not easily
understood by an Egyptian; seeming much like a bunch of sisters. Ultimately, you
feel a bit like an intruder. But once you pass through that door, there's no
turning back because for the next hour; you are their job.
You're given a robe and pair of slippers and asked to take
off all your clothes, although wearing a bikini bottom is always possible. It's
suggested that you take along your shampoo, conditioner and body wash because
at some point you will need them. So after separating from all your belongings,
into a wet room you go.
Each enclosure is no more than a metre by two metres and clad
entirely in granite; there is the surface where one lays taking up one side, and there's a shower
on the other.
The first thing that happens is you're given a quick water
down and lathered in a black soap made of olive oil. Then for as long as one
can bear, you are left in steam. After these few minutes, the true
experience begins. Laying on your back, front and each side, using a coarse
glove, your appointed lady will literally remove the layer of dead skin that
most of us live our lives oblivious to. If your lady is good she'll even remember to scrub
behind your ears!
After rinsing you off and washing down the makeshift bed,
it's time to have your hair washed. A quick body massage follows as she
simultaneously washes you clean with body wash.
The deluxe treatment offers a full body mask after the scrub.
You can choose from several flavours such as coconut, berry or a herbal one. After applying the mask, once again you are
left in the steam for a few more minutes. It's nice to take a cold shower
before leaving the room because otherwise you can feel very hot for a while
afterwards.
After retrieving your belongings from a locker that's
conveniently placed outside the wet room, you are ready to go back outside and to
a semi-private room with lounge beds. They aren't the snazziest of chairs but
the low lit, deep-coloured room is a treat after being (somewhat) manhandled
for the passed hour. They serve you sweet tea and you are left to daze for as
long as you wish.
The basic Moroccan Hammam is in the range of 120LE and
150LE; we are not sure what it depends on though. The chosen deluxe treatment, with
mask included, is 180LE to 220LE however the menu says it comes with a mud
wrap; which was not part of the procedure.
They also offer 60-minute massages (180LE) and the usual
beauty treatments like waxing (200LE), manicure and pedicure (50LE), and hairstyling
(150LE-250LE). However, their recommendable item is the hammam.
Dar El Maghreb isn't trying to impress anyone and it sticks
to basics. So if you're looking for a proper, thorough and
genuine Morrocan hammam experience, at a lower price than anywhere else in
Cairo, then this is the place to go.