Dimo's Gym: Tiny, Tidy Zamalek Gym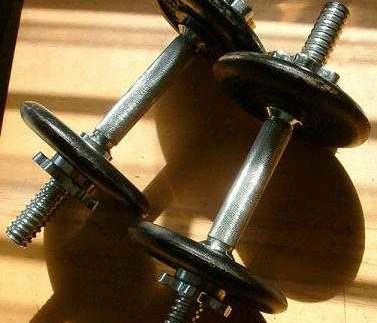 Dimo's Gym's blacked out windows and bright blue lights hanging above Coffee
Bean & Tea Leaf in Zamalek give
passerby the impression that the second-floor facility may be a dingy gym not
worth checking out. However, Dimo's Gym is proof that we shouldn't judge a book
by its cover.
The gym is actually the fitness centre for Om Kolthoum Hotel. Despite
being tiny, it is bright and sparkling clean. Blonde wooden floors barely show
a day of wear and the equipment is modern. Although
there were only two other people working out at the time of this review, a larger crowd might create a
problem at Dimo's. High-quality
performance indicator weight equipment is available for all the major muscle
groups; but only one of each machine is present, which could leave members
waiting to use equipment during peak hours.
Three treadmills, a couple of elliptical machines and two stationery
bicycles round out the exercise equipment at Dimo's, in addition to a corner
with a dozen or so free weights and a bench. There is minimal space for
stretching in this small room; yet Dimo's Gym somehow maintains a tranquil
atmosphere.
The music is low so that gym goers don't have to blow out the speakers
on their headphones to enjoy their own tunes. Tinted windows at the tree line
give Dimo's a sense of privacy; a plus for many patrons.
The locker facilities at Dimo's Gym are also extremely clean and quite
spacious considering the space of the facility. A changing area includes lockers,
benches and cubbies filled with plush blue and white towels. Several showering
stalls and a bathroom are located around the corner, while the far end of the
locker room has a sizeable sauna as well as a steam room for some post -workout
relaxation.
Dimo's Gym is opened daily from 7AM to 10PM, and priced quite reasonably
for a Zamalek gym. Trial uses are on par with neighbouring facilities
(residents pay 100LE a day and 300LE a week while non-residents pay 120LE a day
and 500LE a week), but longer commitments have quite substantial savings. A
month-long membership is priced at 700LE, while a six-month membership goes for
2000LE and a year at Dimo's Gym costs only 3000LE.
Despite the small size of
the facility; the quality of Dimo's equipment makes this gym a great deal for
long-term fitness.