Dragon Den: Brazilian Jiu-Jitsu Classes in Dokki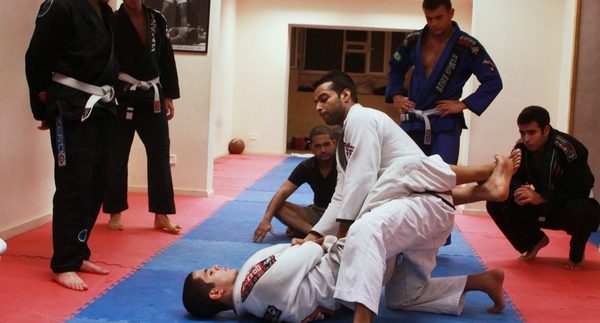 "Oss!" the two opponents greet each other with a hand slide and a fist bump, and the battle begins. Mostafa clutches onto Stephanie's lapel as she applies a leg lock to hold him down. Face to face, in a three-step motion, she performs the triangle choke: reaching left and right onto the back of his collar, she bars her arms against his neck, pulls in and chokes him before escaping out of his grip.
"You have to be one step ahead. It's like chess," Stephanie says, as she and her partner regroup to practice the combination.
Rooted in judo, Brazilian jiu-jitsu (BJJ) is a vigorous, ground-fighting sport that evolved from the frays of Japanese samurais, who when they would lose their swords had to finish with bare hands.
Karim Shah, a BJJ instructor at Amr El-Alfy's Dragon Den Gym in Dokki, says, "In jiu-jitsu, you take the fight with a submission, whether it be a joint lock or a choke. You can't do stuff like pull someone's hair or scratch or pull their ears. No striking is allowed. What we do here is sport jiu-jitsu."
A titled BJJ fighter, Karim has been training for seven years and boasts accolades including Champion at the British Open 2010 and Champion at the annual 2010 European Championship. After moving to Cairo two years ago, he inaugurated the Carlson Gracie Cairo Team, an offshoot of his home academy in London.
Competitive sports aside, BJJ is an alternative workout. Karim offers two-hour classes three times a week to both males and females from ages 11 and up.
"No matter what level you're at, you could just dive in to jiu-jitsu. You don't need to go to the gym. Jiu-jitsu works out your whole body, every muscle. You get very good coordination and it's very good mentally and socially," Karim says.
A typical two-hour session begins with a rigorous cardio regimen of single-file laps of running, sweeps, lateral steps, and sprints around the studio, followed by army-style tumbles and hand-stands on the matted ground.
After warming up, Karim introduces combinations and moves, such as the triangle choke, which the students dub and perform while he keeps a close eye and advises in proper technique. After practice, the students are paired up and spar.
A mix of judo, aikido and wrestling, BJJ is a pure contact sport that can seem intimidating at first. Its grading is strict using the standard stripes and belts: white, blue, purple, brown and black.
"It can take up to two or three years to get a blue belt, your second belt. The black belt is quite a lifetime achievement," says Karim, who dons a brown belt.
But at the core of BJJ's philosophy is the notion that no matter your size or level of ability, you can overcome a stronger opponent.
At the moment, Stephanie is the only regular female student in the class. And though she stands short next to the other members, she is able to train hard and on par with her teammates in an environment that fosters respect and camaraderie.
"Unlike aerobics where you workout individually and then go home, jiu-jitsu is a fun and active sport where you really feel like you're part of a team," Stephanie says.
Of the handful of teams in Cairo, Carlson Gracie Cairo promises a high-caliber sport true to international standards.
"The sort of jiu-jitsu we do is similar to the jiu-jitsu in Brazil, the UK and the US. It's traditional Brazilian jiu-jitsu. It's no nonsense. Go to any academy in the world and you'll find the same standard, and the same standard of fighters as well," Karim says.
Classes with Carlson Gracie Cairo team are 50LE per person per session and meet on Sunday, Tuesdays and Thursdays from 6PM to 8PM.